View all news
Festival presents unique opportunity to hear from world-leading researchers tackling today's global challenges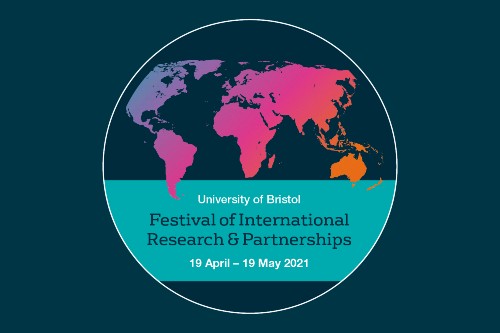 Press release issued: 15 April 2021
Reaching net zero carbon dioxide emissions, eliminating hunger and poverty, tackling misinformation and vaccine hesitancy, decolonisation, and overcoming the digital divide are among key topics set to take centre stage at the inaugural University of Bristol Festival of International Research and Partnerships, which starts next week.
The month-long festival, which runs from Monday 19 April until Wednesday 19 May, will be hosted online and access to the diverse programme is free of charge. It presents a unique opportunity for prospective and current students as well as teachers, researchers, and non-academics to learn how world-leading experts across wide-ranging disciplines are joining forces to tackle some of the biggest challenges facing humanity and the planet today, and how to get involved with international research at the University of Bristol.
Tackling climate change and reducing inequalities are key research priorities for the University of Bristol, which was the first university in the UK to declare a climate emergency and it has pledged to become carbon neutral by 2030.
Many of these issues have been compounded or further complicated by the COVID-19 pandemic. For instance, the 'infodemic' of misinformation and conspiracy theories is fuelling vaccine hesitancy. Leading researchers will discuss these issues and the vital role of health care professionals in communicating the safety of vaccinations at an event on 21 April.
Other important questions include: How can we deliver a greener future for flying to help safeguard the Earth's fragile ozone layer, while also preserving livelihoods dependent on the aviation industry? How can we reduce the environmental impact of digital services, which are in greater demand than ever in the wake of public lockdowns necessitating so many aspects of life to be conducted remotely? How can food insecurity and malnutrition be collaboratively addressed to support countries where children still suffer life-threatening hunger?
Experts from the university's Faculty of Engineering and the Bristol Poverty Institute (BPI) will be exploring these issues and more in their respective events. The spotlight will also turn closer to home in the UK, highlighting obstacles and opportunities to the improve provision of welfare and benefits advice and broaden access to the internet. Directly addressing the problem of digital exclusion, data bursaries have been made available for people who may not otherwise have been able to participate in the BPI conference, and the institute has asked for donations to be made to poverty-relevant causes in lieu of conference fees.
The Bristol Poverty Institute has also been working with the university's newly-established Perivoli Africa Research Centre (PARC) to explore issues around education, poverty, and sustainability in the context of Africa's increased vulnerability to the transmission of COVID-19 and identify new opportunities for working with partners on the African continent. Festival highlights include the official launch of PARC on 21 April and a panel discussion on 18 May to address opportunities and challenges for collaboration between African and UK-based researchers in critical fields, including engineering, sustainable cites, and education to support African-led development through the decolonisation of research partnerships.
Professor Judith Squires, Deputy Vice Chancellor and Provost, said: "This festival is a fantastic opportunity for students and researchers around the world to discover the strength and diversity of international research and partnerships across the University of Bristol.
"The wide-ranging events showcase the ways in which our researchers are working with partners globally to address the most pressing issues facing our planet, from population health and climate change adaptation and mitigation, to the digital and creative industries, and artificial intelligence - all of which have been pushed to new limits in the COVID-19 pandemic.
"I hope the festival will spark important debate on these topics, strengthen existing partnerships, and forge exciting new relationships for the future."
The full schedule of events and how to register is available here.