View all news
Languages graduate awarded entrepreneurship prize for student travel tips venture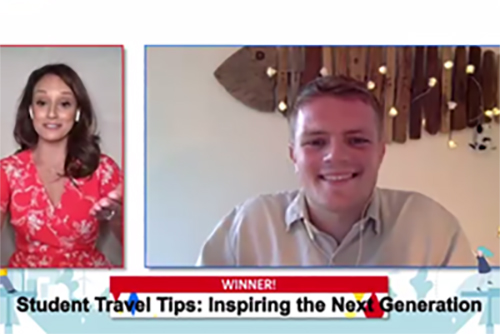 26 October 2020
A University of Bristol graduate who created a start-up business to help students feel more at home while studying abroad, has been awarded a top UK prize.
Alfie Laurence, who graduated with Spanish and Portuguese in July this year, was one of more than 80 people to enter the Santander University Entrepreneurship Awards. His winning effort towards the competition's Crowdfunding challenge saw him raise more than £5,000 towards his business – now boosted by a cash prize of £6,000 from Santander.
Alfie set up Student Travel Tips to counter the loneliness students can feel when studying abroad, something he himself experienced during his degree. He has since branched out to create a Student Travel Talks series as part of a 320 member strong Facebook group called Year Abroad Connect, encouraging students to support each other.
''If there is one thing I'll cherish the most from the early stages of my start up journey, it'll be the confidence that the Basecamp Enterprise team gave me," said Alfie. "I never expected to be doing this full time and I am thankful to them for their help.''
According to research by Santander, 486,000 (27 per cent) UK university students currently run or plan to run a business while studying. Of the 1,000 groups polled during the research, nine per cent (almost one in ten) were already running a business alongside their studies, with an additional 18 per cent saying they had plans to start a venture in the near future.
Jon Hunt, Executive Director of Research and Enterprise at the University of Bristol said: "It's great to see a start-up business like Alfie's getting recognised with such a prestigious award. The University has a proud legacy and successful track record in supporting innovation through its vibrant start-up, spin-out and scale-up business ecosystem, resulting in significant economic value and job creation for the region."
Bristol is now the best city in the UK outside London for start-ups, according to the research centre Startup Blink, which collected data from 1,000 cities in 100 countries to compile the Start-Up Ecosystem Rankings 2020.