View all news
Portraits of two inspirational Black women go on display at University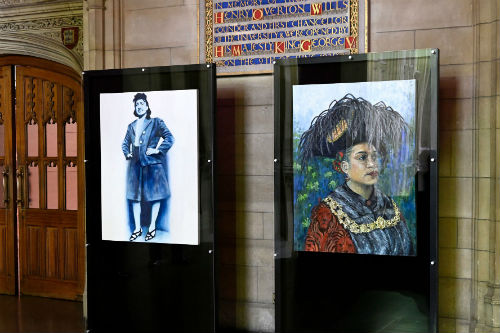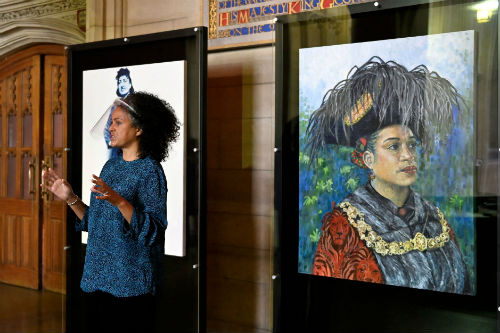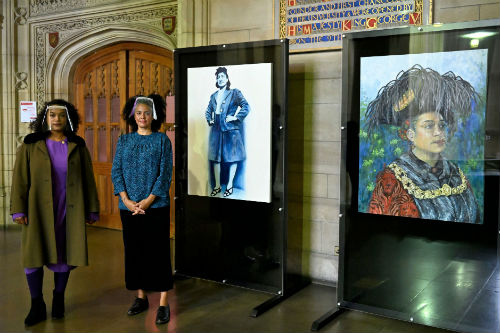 Press release issued: 30 October 2020
The University of Bristol is delighted to exhibit two portraits by Bristol artist Helen Wilson Roe outside the Great Hall of the Wills Memorial Building.
The oil on canvas paintings are of Henrietta Lacks, an African American woman whose human cells were the first ever to survive and multiply outside the body, and Cllr Cleo Lake, Bristol's first Black female Lord Mayor.
Henrietta Lacks was a young mother who died of an unusually aggressive form of cervical cancer. During surgery, a sample of cells was taken from the tumour and was sent to a laboratory where they were found to be the first living human cells ever to survive and multiply outside the human body.
Because Henrietta's cells were able to proliferate indefinitely, they formed the first scientifically defined 'immortal' human cell line, opening the door to all kinds of experiments and research on cell behaviour.
These cells changed the course of modern medicine, making possible some of the most important medical advances of all time including the development of the polio vaccine, chemotherapy, gene-mapping, IVF and cloning.
They became known as HeLa cells - taking the first two letters of Henrietta's first and last names. HeLa cells are used in almost every major hospital and science-based University in the world.
Henrietta's cells are also currently being used in our own COVID-19 research in the University of Bristol.  
The second portrait highlights Cllr Cleo Lake's time in office as the first Black female Lord Mayor of Bristol.
Cllr Lake has a background in social justice activism, arts and culture. She has represented the ward of Cotham of behalf of the Green Party since 2016 and in 2018 she became Lord Mayor, using the role to support youth and under-represented groups.
While in office, she replaced a portrait of Lord Nugent, painted by Thomas Gainsborough, with Helen's portrait of Henrietta Lacks. This was displayed in the Lord Mayor's chamber, City Hall Bristol.
Cllr Lake said: "Henrietta Lacks is a woman whose immortal cells have impacted the whole world and therefore through medical and science we all have a connection to her so surely today she is worthy of celebrating."  
The portrait of Cllr Lake poignantly features the Sankofa symbol from the Akan tribe in Ghana. This appears frequently in traditional Akan art, and represents the need to reflect on the past to build a successful future and how the past must never be forgotten.
Helen Wilson Roe said: "The summer of 2020 and how we react to this year's events, will become our future history. The University of Bristol can use this opportunity to move from representation to meaningful inclusion."  
At the launch event on last week, Professor Jeremy Tavaré, Dean of the Faculty of Life Sciences said: "As someone who has benefited from Henrietta's cells in my own research, I am honoured to be able to exhibit these portraits. HeLa cells have been used in COVID-19 research in my Faculty, which has culminated in a very recent publication. Such is the importance of HeLa cells."
Professor Judith Squires, Deputy Vice-Chancellor and Provost added: "I am delighted that the University is exhibiting these two portraits by Helen Wilson Roe.  The two very different stories behind the portraits of Henrietta Lacks and Cleo Lake shine a welcome light on the power and influence of these strong Black women.  I hope that they will inspire our students, staff and visitors.  They certainly make a brilliant contribution to our ongoing work to decolonise our curriculum and create an open and inclusive community." 
The University of Bristol would like to thank Helen Wilson Roe, the Lacks Family, Joan Field-Thorne and Cllr Cleo Lake for their generosity in allowing us to exhibit these portraits