View all news
Bristol one of four international partners creating a global cyberinfrastructure for scientific discovery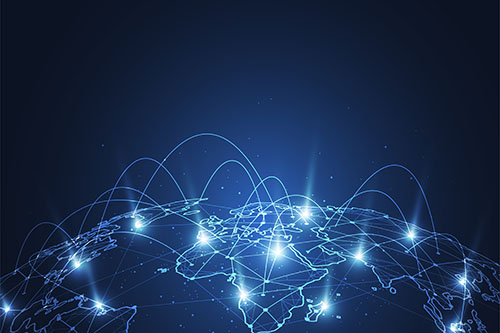 Press release issued: 28 October 2020
The University of Bristol is one of four international institutions selected to form a partnership within the new National Science Foundation (NSF) project, Fabric Across Borders (FAB).
The $3 million grant will expand the NSF FABRIC , the US's largest cyberinfrastructure testbed, to four preeminent scientific institutions in Asia and Europe including the University of Bristol, the University of Tokyo, University of Amsterdam and Geneva (CERN).
Bristol was chosen because of the Smart Internet Lab's pioneering research into smart cities and the citizen-driven, digital innovation methodologies that are integral to the Bristol Digital Futures Institute (BDFI).
The expansion represents an ambitious effort to accelerate scientific discovery by creating the networks needed to move vast amounts of data across oceans and time zones seamlessly and securely. The new funding will establish programmable network nodes (containing hardware, storage, CPUs and GPUs measurement devices and software in a single, integrated rack) and will interconnect them using dedicated connectivity links across the globe.
This three year project, will enable domain scientists to perform global, large-scale, end-to-end expermimentation of new cyberinfrastructure workflow ideas on a platform with one of a kind capabilities.
The investment given to University of Bristol will specifically address sociotechnical research, enabling researchers to collaboratively explore emerging digital technologies for Smart Cities and Connected Communities; understanding how cities, communities and citizens will be able to consume advanced network Services and share innovation and knowledge on a global scale.
Prof Dimitra Simeonidou, Director, Smart Internet Lab and Co-Director Bristol Digital Futures Insistute, said: "We are delighted Bristol has been chosen as one of just four internationally leading scientific institutions to become part of the FAB global testbed infrastructure. Partnering with such preeminent global institutions as part of FAB will create opportunities for research collaboration and global experimentation at an unprecedented scale.
"This represents a significant opportunity not just for our researchers and students, but for the region, and reinforces Bristol's position as a world-leading smart city. Here at the University of Bristol we will have access to a world-wide laboratory from which to address critical scientific and societal challenges through joint research."
Further information
About Smart Internet Lab at the University of Bristol and its 5GUK Test Network
The Smart Internet Lab at the University of Bristol is a hub for internet research which addresses grand societal and industrial challenges. We perform cutting edge research on optical and wireless communications and offer a unique holistic approach to hardware and software co-design, solving critical problems in the global internet evolution. We are world leaders in 5G convergence research and have deployed 5G capability in Bristol city centre focusing on the convergence of fibre infrastructure and 5G wireless access. The University of Bristol's 5GUK Test Network is the UK's first urban 5G End-to-End Testbed.
About Bristol Digital Futures Institute
Bristol Digital Futures Institute (BDFI) became a University of Bristol institute in 2019, and will be located at the University's new Temple Quarter Enterprise Campus in the heart of Bristol's Enterprise Zone. It aims to transform the way we create, utilise and evaluate new digital technologies to benefit our society now and in the future. In a unique collaboration, University of Bristol engineers will work with social scientists and with tech giants, corporations, local government and community partners to answer these big questions and create transformational technologies for the future. BDFI is funded by a £29m grant from the Research England UK Research Partnership Investment Fund (RPIF), alongside £71m of funding from philanthropy and its 27 partners including BT, Dyson, the BBC, Airbus and Aardman.
About FAB
FAB will be led by the University of Illinois along with core team members from RENCI at the University of North Carolina at Chapel Hill; the University of Kentucky; the Department of Energy's Energy Sciences Network (ESnet); Clemson University; and the University of Chicago. Over three years, the team will work with international partners to place FABRIC nodes at the University of Tokyo; CERN, the European Organization for Nuclear Research in Geneva, Switzerland; the University of Bristol in the U.K.; and the University of Amsterdam.
To ensure the project meets the needs of the scientists it aims to serve, FAB will be built around use cases led by scientific partners in five areas:
Physics (high energy physics use cases at CERN's Large Hadron Collider)
Space (astronomy and cosmology use cases in the Legacy Survey of Space and Time and the Cosmic Microwave Background-Stage 4 project)
Smart cities (sensing and computing use cases to advance smart, connected communities for the NSF SAGE project and work and the University of Bristol)
Weather (use cases to improve weather and climate prediction at the University of Miami and Brazil's Center for Weather Forecast and Climatic Studies)
Computer science (use cases in private 5G networks at the University of Tokyo; censorship evasion at Clemson University; network competition and sharing at the University of Kentucky; and software-defined networking and P4 programming at South Korea's national research and engineering network, KREONET)
FAB will connect with existing U.S. and international cyberinfrastructure testbeds and bring programmable networking hardware, storage, computers, and software into one interconnected system. All software associated with FAB will be open source and posted in a publicly available repository: https://github.com/fabric-testbed/.