View all news
Risk of self-harm increases for boys and girls who experience earlier puberty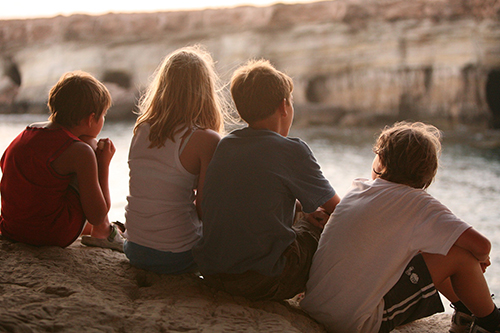 Press release issued: 6 October 2020
Boys and girls who experience puberty earlier than their peers have an increased risk of self-harm in adolescence, a study funded by the National Institute for Health Research Bristol Biomedical Research Centre (NIHR Bristol BRC) and published in the journal Epidemiology and Psychiatric Sciences today [Tuesday 6 October] has found.
This is the first study to use the teenage growth spurt – an objective measure for the onset of puberty because it is based on height measurements taken in research clinics – to look at the relationship between the timing of puberty and self-harm. The findings could be used to help identify boys, as well as girls, who are at increased risk of self-harm and develop early interventions to help reduce this risk.
Examining data from more than 5,000 individuals, researchers found that earlier onset of puberty in both boys and girls, as measured by the age at peak height velocity (the teenage 'growth spurt'), is associated with a higher risk of self-harm at age 16 years. They also found some evidence that, for girls, this increase in risk persists into early adulthood.
It is known that young people who experience earlier puberty are at higher risk of mental health problems such as depression. Previous research has also shown that girls who experience earlier puberty are at higher risk of self-harm. However, until now, the evidence for whether the timing of puberty is associated with self-harm in boys was less clear. This is because most previous studies have focused only on girls, or not looked at boys and girls separately. Many studies have also used subjective measures of when puberty starts – for example asking young people when they believe their pubertal development started compared to their peers – which might not be accurate.
As young people move through adolescence, their height increases sharply over a relatively short period of time. This is known as their peak height velocity: the point in time when their height is increasing at the fastest rate. Researchers calculated age at peak height velocity from height measurements taken from 5,339 participants in the Children of the 90s (ALSPAC) study when they attended research clinics during childhood and adolescence. They calculated that the mean age at peak height velocity (aPHV) was 13.5 years in boys and 11.8 years in girls.
The study also looked at the self-report questionnaires completed by participants at ages 16 and 21 years to assess whether there was evidence of self-harm. One in ten boys and a quarter of girls reported having self-harmed at age 16 years. By the age of 21 years, the proportion of males reporting having ever self-harmed was 28 per cent, and the proportion of females was 35 per cent.
The research found that for both males and females, the proportion of participants reporting self-harm was highest among those with early aPHV and lowest among those with late aPHV. For females, experiencing aPHV one year earlier was associated with a 15 per cent increase in the odds of self-harm at age 16 years; for males it was associated with a 28 per cent increase.
Elystan Roberts, researcher at the University of Bristol and NIHR Bristol BRC, and the paper's lead author, said: "Our study is the first to investigate the relationship between the timing of puberty and self-harm using an objective measure of pubertal timing in boys.
"There's evidence that self-harm is becoming more common in young people, so it's important to identify the factors associated with self-harm so we can provide help earlier to those people who may be most at risk. We still don't know a lot about the psychological effects of early puberty in boys because male pubertal timing is so hard to measure, so our results will be important for helping to reduce self-harm risk in boys as well as girls."
Dr Becky Mars, Research Fellow in Epidemiology in Population Health Sciences at the University of Bristol, added: "The next steps will be to identify the mechanisms that explain the association. This might be biological factors like neurological development or hormone changes, or it might be psychosocial factors like bullying, substance use or depression. Once we have a better understanding of the reasons why early developers are more likely to self-harm, interventions can be designed and delivered to help reduce self-harm risk."
Paper
'Pubertal timing and self-harm: a prospective cohort analysis of males and females' by Elystan Roberts, Carol Joinson, David Gunnell, Abigail Fraser, Becky Mars in Epidemiology and Psychiatric Sciences [open access]
Further information
About the National Institute for Health Research
The National Institute for Health Research (NIHR) is the nation's largest funder of health and care research. The NIHR:
Funds, supports and delivers high quality research that benefits the NHS, public health and social care
Engages and involves patients, carers and the public in order to improve the reach, quality and impact of research
Attracts, trains and supports the best researchers to tackle the complex health and care challenges of the future
Invests in world-class infrastructure and a skilled delivery workforce to translate discoveries into improved treatments and services
Partners with other public funders, charities and industry to maximise the value of research to patients and the economy
The NIHR was established in 2006 to improve the health and wealth of the nation through research, and is funded by the Department of Health and Social Care. In addition to its national role, the NIHR supports applied health research for the direct and primary benefit of people in low- and middle-income countries, using UK aid from the UK government.
This work uses data provided by patients and collected by the NHS as part of their care and support and would not have been possible without access to this data. The NIHR recognises and values the role of patient data, securely accessed and stored, both in underpinning and leading to improvements in research and care. www.nihr.ac.uk/patientdata
About NIHR Bristol BRC
NIHR Bristol Biomedical Research Centre's (BRC) innovative biomedical research takes science from the laboratory bench or computer and develops it into new drugs, treatments or health advice. Its world-leading scientists work on many aspects of health, from the role played by individual genes and proteins to analysing large collections of data on hundreds of thousands of people. Bristol BRC is unique among the NIHR's 20 BRCs across England, thanks to its expertise in ground-breaking population health research.
About Children of the 90s
Based at the University of Bristol, Children of the 90s, also known as the Avon Longitudinal Study of Parents and Children (ALSPAC), is a long-term health research project that enrolled more than 14,000 pregnant women in 1991 and 1992. It has been following the health and development of the parents, their children and now their grandchildren in detail ever since. It receives core funding from the Medical Research Council, the Wellcome Trust and the University of Bristol.