View all news
Researchers launch first study into COVID bereavement among BAME people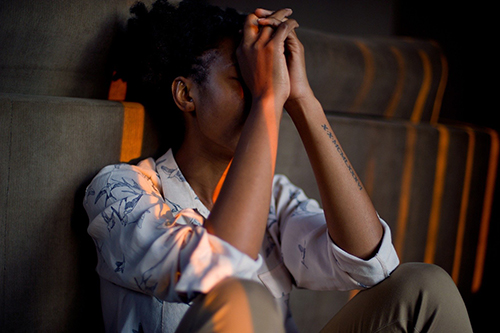 Press release issued: 12 October 2020
A pioneering study into people's experience of bereavement during the COVID-19 pandemic has been launched by researchers from the universities of Cardiff and Bristol. The study is calling for participants, particularly those from black, Asian and minority ethnic (BAME) backgrounds following the disproportionate effect COVID-19 has had on ethnic minority groups.
The study, funded by the Economic and Social Research Council, will be the first to investigate how bereavement support, during and beyond the pandemic, can meet the needs of those who are currently grieving for loved ones. A key focus of the study is to ensure that equitable bereavement support is provided across the UK. To do this the researchers aim to recruit as many people as possible who have been bereaved since March this year and are from an ethnic minority background.
BAME people are twice as likely to die as white people from COVID-19. Many families have not been able to visit dying loved ones, have had to grieve alone during lockdown and have experienced painful disruptions to funerals and traditional death rites. The study aims to understand how issues like these have complicated the grieving process for people.
Drs Emily Harrop and Ishrat Islam from the Marie Curie Research Centre at Cardiff University, said: "Through this study we hope to understand the needs of the rich and varied ethnic groups within the UK and ultimately we want this to result in better support for people who are grieving.This is why we are asking people who have experienced a bereavement during the COVID-19 pandemic to participate if they feel able to.
"We must make sure that people do not continue to experience further inequities when it comes to accessing bereavement services. It is essential that we try to understand the complexities of grieving in this pandemic so we can ensure there is support for the people who need it most."
Dr Lucy Selman, Senior Research Fellow from the Centre for Academic Primary Care and Palliative and End of Life Research Group at the University of Bristol, added: "We know that there are barriers to accessing bereavement services in some population groups. We need to understand the reasons for this in order to be able create culturally appropriate services which meet the needs of those who are currently missing out on support."
Claire Collins, Bereavement Coordinator & Counsellor at Marie Curie, explained: "From very early on it became clear that there was a racial pandemic within the COVID-19 crisis. The Office for National Statistics figures only confirmed the stories we were hearing and seeing around us – that BAME people are dying in disproportionate numbers.
"Having to deal with the complexities of grief in lockdown, as well as the harsh realities of racism, has likely made grief more complex for many of people. Additionally, some BAME people have experienced the devastating loss of multiple bereavements in their families and communities.
"There is currently a gap in our knowledge with regards to access to bereavement services in the UK for ethnic minorities. We hope that this research will shine a light on how Marie Curie can better support bereaved people during and after the pandemic."
To participate in the research and share your experience of grief during the pandemic, please complete the online survey here or visit www.covidbereavement.com
Further information
About Marie Curie
Marie Curie – care and support through terminal illness
Please note – we are now called 'Marie Curie' (not Marie Curie Cancer Care) 
Marie Curie is the UK's leading charity for people with any terminal illness. The charity helps people living with a terminal illness and their families make the most of the time they have together by delivering expert hands-on care, emotional support, research and guidance.  Marie Curie employs more than 2,700 nurses, doctors and other healthcare professionals, and with its nine hospices around the UK, is the largest provider of hospice beds outside the NHS. 
If you are in need of support, or have any questions about any aspect of terminal illness, call the Marie Curie Information & Support Line free on 0800 090 2309 or visit mariecurie.org.uk/help
For more information visit mariecurie.org.uk
Like us at twitter.com/mariecurieuk
Follow us on Facebook: facebook.com/MarieCurieUK

About the Centre for Academic Primary Care
The Centre for Academic Primary Care (CAPC) at the University of Bristol is a leading centre for primary care research in the UK, one of nine forming the NIHR School for Primary Care Research. It sits within Bristol Medical School, an internationally recognised centre of excellence for population health research and teaching. Follow us on Twitter: @capcbristol