View all news
Be More Empowered portraits celebrate staff, students and alumni from BAME backgrounds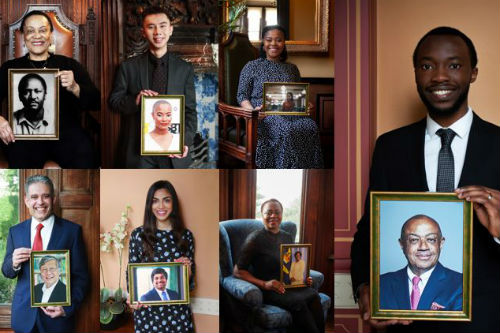 Press release issued: 20 October 2020
The University of Bristol has unveiled a series of photographic portraits that celebrate some of its Black, Asian and minority ethnic (BAME) staff, students and alumni who have led the way in education, the arts, economics, politics, activism and social change.
The portraits, which are on permanent display in the Reception Room of the Wills Memorial Building from Thursday 22 October, commemorate the first anniversary of the University's Be More Empowered for Success programme which supports Black, Asian and minority ethnic students.
From Bristol alumnus Lord Paul Boateng, one of the first three Black British MPs, to Hannah Dualeh whose work as a sabbatical officer at Bristol Students' Union led to the creation of the Be More Empowered programme itself, each of the seven portraits represents a member of the University who has brought about significant change here in Bristol and across the world.
They are accompanied by current and recent staff, students and alumni whose research, learning or work connects them to these figures, and who are themselves change makers, leaders and influencers.
Robiu Salisu, BAME Student Inclusion Officer, who co-ordinated the project who currently leads the Be More Empowered programme, chose to appear with a portrait of Lord Boateng.
He said: "In my current role at Bristol, I am inspired by Lord Boateng's journey from activism to creating meaningful change within the British political system and paving the way for the future generations of Black, Asian and minority ethnic politicians.
"Lord Boateng's story serves as a reminder to many across the country, including myself, to be alert to injustices wherever they may exist and to exert efforts to increase representation and equality of opportunity for all."
Lord Boateng added: "I'm enormously honoured to be featured in these portraits alongside others whose contributions I admire and respect. Bristol, as a University gave me the best possible start in the study of the law.
"Bristol today is on a fast-accelerating journey towards becoming a more inclusive and diverse institution, mobilising support and resources to this objective in new and exciting ways of which this exhibition is one. The University, its staff and student body deserve support and credit for that.
"There is no room for complacency. The individual achievements that these portraits represent could only have come about through a fortunate combination of personal effort, an excellent education for which I am grateful, and the support of many others whose pictures do not feature but who have made us what we are. I include the St Paul's community in Bristol whom I represented as a lawyer in the troubled 80s amongst those.
"My hope is that this exhibit will both inspire and challenge an upcoming generation irrespective of racial origin to do more, and to make the demand for a fairer and more inclusive society. This demand is as necessary as ever, for if there is one lesson we all need to take way in Black History Month, it is that power concedes nothing without a demand it never has and it never will."
Olivette Otele, Professor of the History of Slavery, is one of the Bristol academics featured. For her portrait she is pictured with Dame Pearlette Louisy, Governor General of Saint Lucia from 1997 to 2017 who completed a PhD in the Department of Education at Bristol in 1991.
Professor Otele said: "This project is incredibly important and shows that there are many ways to contribute to the questions of representation and equality.
"I'm truly honoured to have been chose to be amongst such powerful role models. Dame Pearlette was a pioneer and a dedicated educator whose positive impact spans across several decades. It is a privilege to sit beside her portrait."
The other portraits feature:
Antonette Clarke-Akalanne, Archaeology and Anthropology (BA 2018) and Masters student who is pictured with the renowned 20th century poet Okot p'Bitek who took a Diploma in Education at Bristol in the 1960s before writing his breakthrough work Song of Lawino in 1966.
Professor Leon Tikly from the School of Education who chose to appear with Dr Andrew Sheng, one of the University's Pro Chancellors.
Student Advocate, Cyril Ip, is pictured with Liv Little founder of gal-dem, a media company committed to sharing the perspectives of women and non-binary people of colour, who graduated from Bristol in 2016 with a first class honours degree in Politics and Sociology.
Raeesah Ellis-Haque, Widening Participation and Undergraduate Recruitment Officer, who appears with Professor Nishan Canagarajah, former Pro Vice-Chancellor for Research and Enterprise who is now Vice-Chancellor at the University of Leicester.
Former Undergraduate Education Officer and current NUS UK Vice President (Higher Education), Hillary Gyebi-Ababio, is pictured with Hannah Dualeh, former Sabbatical Officer at Bristol Students' Union.
Professor Judith Squires, Provost and Deputy Vice-Chancellor, said: "I am extremely proud to see these influential members of our community take their rightful place on the walls of the Reception Room. At a time when we are reflecting on our institutional history, and making a clear commitment to address racism at every level, this exhibition allows us to shine a light on the achievements and contributions of some of our most inspiring Black, Asian and minority ethnic staff and students."
The Be More Empowered portraits complement a series of portraits celebrating women at the University of Bristol which were launched last year to mark 100 years since the first women in Britain won the right to vote. Both sets of portraits were photographed by Jessica Augarde.
To celebrate the launch of the portraits a free online event, Towards a Decolonised University, will take place from 6.30pm-8pm on Thursday 22 October. This is open to everyone.
Hosted by Judith Squires, the panel of speakers includes Olivette Otele, Leon Tikly, Hillary Gyebi-Ababio and Eva Larkai - BME Success Advocate, fourth year medical student and President of BME Medics.
They will discuss the importance of critical engagement on the ways in which the knowledge and resources we encounter at university is shaped by the impact of colonial power structures, and how to create solutions which address racism and colonial legacies in our university. It is hoped this panel event will encourage discussion among students, staff and members of the wider public. To book, click here to register on Zoom.