View all news
The COVID-19 pandemic: in a world of fake news, why science matters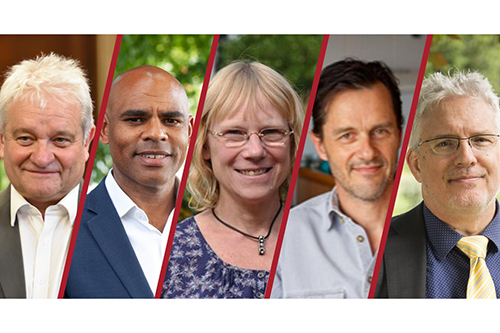 Press release issued: 2 December 2020
The COVID-19 pandemic raises important questions about the role of life sciences in society and if the voices of scientists are now less audible or less important, is this a problem and how can this be addressed? This question will be one of many tackled by a panel, including Nobel Prize-winning biologist, Sir Paul Nurse and Bristol Mayor, Marvin Rees, for a live online event to celebrate the launch of the University of Bristol's Faculty of Life Sciences.
The event Life sciences in a post-truth world: a COVID-19 case study will take place on Thursday 3 December from 6 to 7.30 pm. Hosted by BBC journalist and presenter of BBC Radio 4's World at One Sarah Montague, the panel will discuss the role of life sciences in society in the context of the COVID-19 pandemic. The panel will include:
The panel will discuss not just how the virus should be fought at a molecular, community and political level, but also how should life scientists engage with a public who are hungry for information and unsure who to trust.
The role of science in providing evidence that helps policy makers and communities tackle global challenges is under growing threat as our political cultures shift and social media makes it easier for all voices, including those that misinform, to be heard.
Professor Jeremy Tavaré, Dean of the Faculty of Life Sciences, said: "The current global COVID-19 pandemic has shown just how effectively the entire scientific community has come together to confront the coronavirus and just how important science is to meeting the challenges society faces.
"The speed at which COVID-19 vaccines have been readied for human use has been one of the most impressive all-time feats. Their ultimate success now depends on scientists using their evidence and their voices to gain the trust of society, counter sources of misinformation and so ensure the mass vaccine uptake needed to defeat the virus."
To reserve your place at this online event and submit your question to the expert panel, register at: https://zoom.us/webinar/register/WN_RgvnBfYrT7mtmZ5JgjP70g
The panel event is funded by the E.H Young endowed event fund. The endowment provides for an annual event to be given on the subject "Truth is worthy of pursuit for its own sake".
Further information
About the virtual panel event
Support our COVID-19 research
Bristol's researchers are part of a global network of scientists responding urgently to the challenge of the coronavirus pandemic.
Find out how you can support their critical work
Bristol UNCOVER Group
In response to the COVID-19 crisis, researchers at the University of Bristol formed the Bristol COVID Emergency Research Group (UNCOVER) to pool resources, capacities and research efforts to combat this infection.
Bristol UNCOVER includes clinicians, immunologists, virologists, synthetic biologists, aerosol scientists, epidemiologists and mathematical modellers and has links to behavioural and social scientists, ethicists and lawyers.
Follow Bristol UNCOVER on Twitter at: twitter.com/BristolUncover
For more information about the University of Bristol's coronavirus (COVID-19) research priorities visit: http://www.bristol.ac.uk/research/impact/coronavirus/research-priorities/