View all news
Researchers extend recruitment to COVID-19 vaccine trial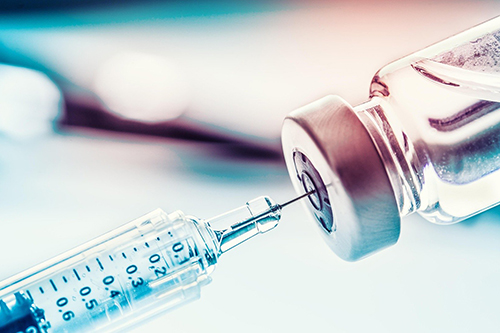 Press release issued: 19 August 2020
Researchers at University Hospitals Bristol and Weston NHS Foundation Trust (UHBW), North Bristol NHS Trust (NBT) and the University of Bristol have begun a new round of recruitment to a clinical trial of a vaccine pioneered in the UK which could protect against COVID-19.
The latest round of recruitment will involve healthy volunteers aged over 70 with up to 150 participants to be recruited in Bristol.
Work on the vaccine, developed by clinical research teams at the University of Oxford's Jenner Institute and Oxford Vaccine Group, began in January.
It is called ChAdOx1 nCoV-19 and is made from a weakened version of a common cold virus (adenovirus) from chimpanzees that has been genetically changed so that it is impossible for it to grow in humans.
This has been combined with a gene that makes a protein from the Covid-19 virus (SARS-CoV-2) called spike glycoprotein which plays an essential role in the infection pathway of the SARS-CoV-2 virus.
The first phase of the trial took place in April, with the second phase beginning in May, with over 1,000 volunteers recruited in Bristol so far.
Dr Rajeka Lazarus, a consultant in infectious diseases and microbiology at UHBW and one of the Principal Investigators for the study in Bristol, said: "Currently there are no licensed vaccines or specific treatments for Covid-19. However, vaccines are the most effective way of controlling outbreaks and the international community has stepped up efforts towards developing one.
"This vaccine aims to turn the virus' most potent weapon, its spikes, against it – raising antibodies that stick to them allowing the immune system to lock onto and destroy the virus."
Adam Finn, who is also a principal investigator for the study in Bristol, as well as Honorary Consultant at Bristol Royal Hospital for Children, Professor of Paediatrics at the University of Bristol and Director of the Bristol Children's Vaccine Centre at Bristol Medical School, added: "We are delighted to be supporting our colleagues in Oxford by collaborating on this extremely important study."
Professor Finn, who is also the lead of Bristol UNCOVER (Bristol Covid Emergency Research), a group of Bristol researchers united to collaborate on finding ways to overcome the disease, added: "This study will help us to assess whether healthy people can be protected from Covid-19 with this new vaccine and it will also give us valuable information on its safety and ability to generate good immune responses against the virus."
Dr Lazarus added: "Those taking part in the trial will play a crucial role in the global search for a vaccine that protects us all, not least frontline NHS workers, the elderly and those with underlying health conditions."
Further information
Further details and FAQs are also available on the University of Oxford website here
Support our COVID-19 research
Bristol's researchers are part of a global network of scientists responding urgently to the challenge of the coronavirus pandemic.
Find out how you can support their critical work
About the Bristol UNCOVER group
In response to the COVID-19 crisis, researchers at the University of Bristol formed the Bristol COVID Emergency Research (UNCOVER) Group to pool resources, capacities and research effortsto combat this infection.
BristolUNCOVER includes clinicians, immunologists, virologists, synthetic biologists, aerosol scientists, epidemiologists and mathematical modellers and has links to behavioural and social scientists, ethicists and lawyers and is supported by a large number of junior academic and administrative colleagues.
Follow Bristol UNCOVER on Twitter at: https://twitter.com/BristolUncover
For more information about the University of Bristol's coronavirus (COVID-19) research priorities visit: www.bristol.ac.uk/research/impact/coronavirus/research-priorities/