View all news
Dr Christopher Wormald, 1936-2020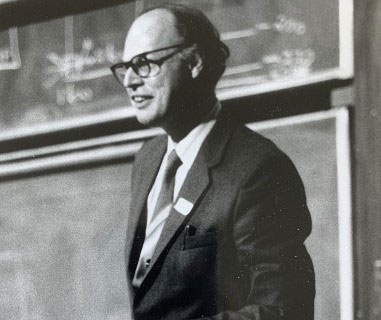 29 April 2020
Dr Christopher John Wormald, who retired from the University as a Reader in Chemistry in 2002, sadly passed away on 20 April. Emeritus Professor Brian Vincent, Peter Cox and Christopher's daughter Eleanor offer this remembrance.
Christopher was born in Leeds in 1936. He obtained his BSc in Chemistry at Nottingham University in 1958 and then went to Reading University for his PhD research, working for two renowned professors, Edward Guggenheim and Max McGlashan. It was during this time that his lifelong interest in the thermodynamics of fluids and fluid mixtures began.

Directly after obtaining his PhD degree in 1964, he was appointed to an assistant lectureship at the University of Bristol by then Head of Physical Chemistry Professor Douglas Everett, another internationally renowned figure in the field of thermodynamics. Christopher Wormald built an international reputation of his own for his research in thermodynamics.

He was awarded the Royal Society of Chemistry Medal for Thermodynamics in 1990. The Thermodynamics and Statistical Mechanics Group of the Royal Society of Chemistry also recognised his lifelong contributions to the field by creating in 2001 the "Christopher J Wormald Medal for Thermodynamics", to be awarded to a young researcher in the field in the form of a medal and a £500 bursary to attend a research meeting. He was awarded his DSc degree by the University of Bristol in 1987.
Christopher was not only a popular undergraduate lecturer who illustrated his lectures with memorable demonstrations, but also a highly popular public lecturer to schools and university student societies on steam engines, rockets and explosives. In the picture above, Christopher is delivering one such lecture.

As a young lecturer in Bristol he ran several series of lunchtime seminars by invited speakers on the topic of "Science and Social Responsibility", which were very successful. He gave lectures on the topic of "Science and Religion" for a number of years, beginning in the 1990s, at the Wesley Methodist College in Bristol.
He was a long-standing member of the Victoria Methodist Church on Whiteladies Road and served as a local preacher in the Methodist Church from 1973. He had a deep passion for classical music.
Christopher was a loving, caring man, not only for generations of students at the University of Bristol (especially those in his own research group), but above all for his family. He met his wife, Jean, at Nottingham University and they married in 1960; they had two children, Richard and Eleanor. Jean suffered poor health in her last years and Christopher lovingly nursed her through that time before she passed away in 2003.
Christopher was an inspiration to all his family, friends and colleagues, who will miss him greatly.