View all news
Major new biography of Victor Hugo, the man behind Les Misérables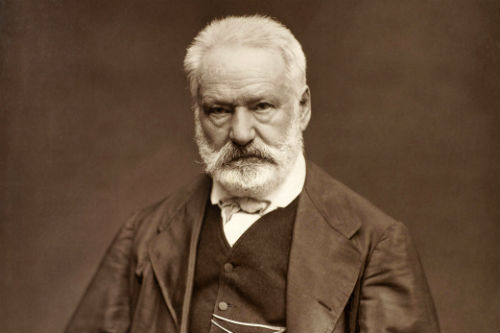 Press release issued: 21 January 2019
The first major biography in English for over 20 years, detailing the life and work of the iconic 19th-century French writer, Victor Hugo, will be published in February.
Victor Hugo is written by Dr Bradley Stephens from the Department of French at the University of Bristol and published by Reaktion Books for their 'Critical Lives' series – 'beautifully produced and short critical biographies', according to the Times Literary Supplement, that are targeted at a general audience.
Internationally famous for his classic novels Les Misérables and Notre-Dame de Paris (more commonly known in English as The Hunchback of Notre-Dame), Hugo is a national icon in France, on the same level as Shakespeare and Dickens in the United Kingdom.
His work remains as popular in the 21st century as it did in his own lifetime. The BBC is currently screening its major new adaptation of Les Misérables while the well-known musical stage-show is on national tours in both the UK and the USA, and both Netflix and Disney have recently announced new live-action film versions of The Hunchback of Notre-Dame. January also sees the return to London of the hit French-Canadian musical Notre-Dame de Paris for a limited run.
The new biography provides a concise but comprehensive study of Hugo's massive body of work within the context of his highly dramatic life.
Dr Stephens said: "The man behind these much-loved stories has a fascinating story of his own – one that isn't well known outside of France and is prone to clichés within his home country.
"Hugo achieved huge success not just as a novelist but as a poet and playwright as well. He was also elected to both Houses of the French Parliament and was the first French writer to receive a State funeral, attended by 2 million people in Paris and attracting headlines across the world.
"Whether he was leading the French Romantics against artistic tradition or defying France's Second Empire in exile, he became synonymous with the progressive ideals of the nineteenth century, including bringing an end to poverty, slavery, and the death penalty.
"His moral principles were shaped by his private life, in which he wrestled with personal tragedies and the pressures of fame while being pulled into the turmoil of his century. These twists of fate stirred his passion for freedom, which he channelled into his writing (inspiring Tolstoy and Verdi, to name but a few) and other outlets like drawing (which Van Gogh described as 'astonishing').
"Importantly, Hugo's rebellious character and vibrant imagination also suggest that he was too restless to sit comfortably on the pedestal of literary greatness."