View all news
A cappella alumni reunite for explosive 5-year anniversary show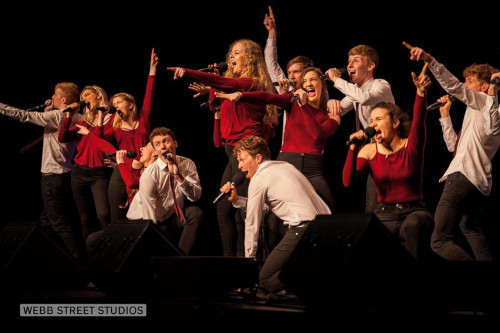 Press release issued: 28 January 2019
Much-loved student a cappella group, The Bristol Suspensions, are set to reunite with five years of alumni for a first of its kind, show-stopping charity concert at Bristol SU's Anson Rooms [Richmond Building, Saturday 2 February at 7.30pm].
The Bristol public are invited to join the celebration, dubbed Maroon 5 in a nod to its University of Bristol roots, as over 35 past and present Suspensions members reunite from across the country.
Throughout the evening the audience will be treated to a high-energy, feel-good extravaganza of 20 different songs with a side serving of drama, comedy, slapstick and plenty of audience participation.
Each academic year of Suspensions will perform their most recognisable hits, with favourites including Madness/Magic, Is Your Love Big Enough and Hush Hush.
Money raised will go towards local charity Off The Record, a mental health social movement which provides mental health support to young people aged 11-25 across Bristol and South Gloucestershire.
The brainchild of University of Bristol students Joe Pickin, Eve Robertson-Waters and Rafaella Barratt in 2014, the group quickly reached lofty heights having taken the crown at national competition, Voice Fest, recording two albums and three music videos and competing in BBC One entertainment show, Pitch Battle.
The group have toured the US East Coast and bagged the highest ever UK score in the International Championship of Collegiate A Cappella alongside a host of other accolades.
The Bristol Suspensions Group Manager, Charlotte Regan, said: "This is a really exciting concert for us. We've come so far over the last five years and this is the first time all five years of alumni have reunited. We can't wait to get everyone together to sing our hearts out, raising money for a fantastic local charity along the way."
Tickets are £5 (concession) and £7 (standard) and can be purchased via the Bristol SU event page.