View all news
Minister given glimpse of the future as robotics meets ultrasound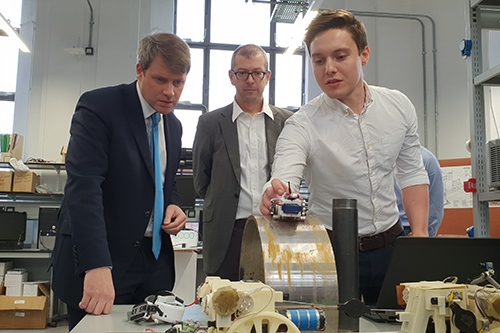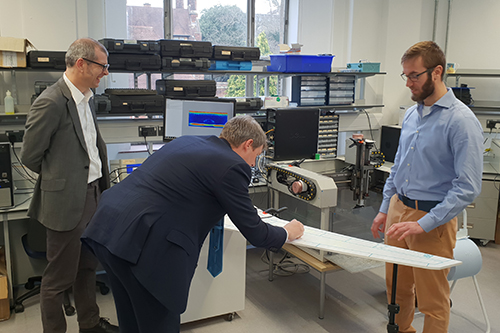 Press release issued: 4 January 2019
From contactless medical procedures to underground robots detecting pipe damage, the new Universities and Science Minister Chris Skidmore has seen first-hand how futuristic university research could help to solve some of society's big challenges.
The MP for Kingswood visited the University of Bristol today [Friday 4 January] to learn more about its world-leading ultrasonic research.
He also heard about the University's plans to create a new enterprise campus in the heart of the city, next to Bristol Temple Meads railway station, which will focus on developing technologies which will deliver real-world benefits.
The Minister's visit follows an announcement from the Department for Business, Energy & Industrial Strategy confirming that £7 million of government investment will fund mini robots to be used in underground pipe networks.
The development of mini robots, capable of inspecting and repairing pipes, is one of the pioneering projects funded by the Engineering and Physical Sciences Research Council (EPSRC) as part of the modern Industrial Strategy.
Four universities, including Bristol, are working to develop tiny devices around 1cm long that use sensors, navigation and communication systems to detect, report and mend faults in the pipes and eliminate the need for human intervention.
Mr Skidmore, who used to teach history part-time at the University of Bristol, was shown a hands-on demonstration of 'ultrasonic array imaging' - the engineering equivalent of ultrasound used on babies - which will be mounted to the robots to look for cracks.
Experts in the University's Ultrasonics and Non-Destructive Testing (UNDT) group, led by Professor Bruce Drinkwater, helped to build the world's first sonic tractor beam which can lift and move objects using sound waves.
Last month, it was revealed that such ultrasonic technology could ultimately allow surgeons to perform a range of medical procedures, all without touching the patient.
Mr Skidmore, who was appointed Minister of State for Universities, Science, Research and Innovation last month, said: "Having previously taught at the University of Bristol, I know just how deserving it is of its ranking within the world's top 100 universities. Its research and innovation lead the way in its field and I have seen today how futuristic research can improve lives and make the UK even more competitive.
"It is work like this being carried out at Universities across the UK that has cemented R&D at the heart of our modern Industrial Strategy, with the biggest boost to funding in UK history to create high skill jobs and boost productivity across the country."
Mr Skidmore also heard more about the University's plans for its Temple Quarter Enterprise Campus, which will provide a catalyst for UK economic growth, local jobs and international investment when it opens in 2021/22.
The University will be working with business and community partners to help solve major global challenges and contribute to the four grand challenges in the government's Industrial Strategy: artificial intelligence and big data; clean growth; the future of mobility; and meeting the needs of an ageing society.
At Temple Quarter there will be a focus on digital innovation at scale, and provision to increase the skills pipeline to support the burgeoning digital economy. Education will be challenge-based and enterprise focussed, with students and researchers working alongside key industry and civic partners to tackle the challenges of tomorrow.
Professor Guy Orpen, Deputy-Vice-Chancellor for New Campus Development, said: "It's been fantastic to welcome Chris back to the University in his new capacity as Universities Minister. We welcome the government's investment in new technologies and its commitment to creating high skilled jobs across the UK.
"The University and its civic partners are bringing life to the city centre east of Temple Meads and driving the further development of digital innovation in the city-region.
"From driverless cars and highly secure systems, to the future of work, our researchers and students will tackle the challenges of tomorrow and provide the skills needed in the future. In line with the government's Industrial Strategy, we aim to harness the benefits of technology for the whole of society."
Further information
You can read more about the project on the EPSRC website.
About the EPSRC
Engineering and Physical Sciences Research Council (EPSRC) is part of UK Research and Innovation, a non-departmental public body funded by a grant-in-aid from the UK government. EPSRC is the main funding body for engineering and physical sciences research in the UK. By investing in research and postgraduate training, we are building the knowledge and skills base needed to address the scientific and technological challenges facing the nation. Our portfolio covers a vast range of fields from healthcare technologies to structural engineering, manufacturing to mathematics, advanced materials to chemistry. The research we fund has impact across all sectors. It provides a platform for future UK prosperity by contributing to a healthy, connected, resilient, productive nation.