View all news
Professor John Henderson, 1958-2019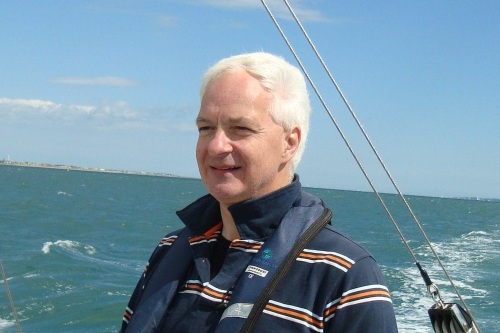 22 August 2019
Professor John Henderson, who contributed to the science and life of the Faculty of Health Sciences for over 25 years, has died at the age of 61. His friends and colleagues offer the following tribute to a well-liked and hugely respected clinical expert at Bristol.
"It is with regret and sadness that this email informs you that John Henderson has recently developed an unexpected illness which necessitated a series of investigations. These have revealed that John has pancreatic cancer which is inoperable and unlikely to respond to chemotherapy."
These stark words that the Faculty of Health Sciences emailed to colleagues were penned by John when he realised his diagnosis and its inevitable outcome. They completely reflected John's ability to see a problem and react with candour, bravery and consideration for others. John's view was that he worked in a Faculty where medical problems had to be faced every day and it was with this unflappable approach that he responded to the reality of the situation in which he found himself. John passed away just weeks after his diagnosis became clear. He was a dear friend to this University, Faculty and the Medical School and will be missed enormously.
John was born on the 11 February 1958. He went to Medical School in Manchester and qualified as a doctor in 1981. After various junior hospital training posts in Paediatrics, he came to Bristol in 1986 as a Research Fellow in Child Health under the watchful eye of the late Professor David Baum. It was here and in his early clinical career that he developed his interests in Respiratory Medicine in children and moved towards the difficult side of Clinical Paediatrics, working in Neonatology and Intensive Care. He was particularly focused on the physiology of breathing and lung function in babies and children. In 1989 he moved to the University of Western Australia as a Research Fellow in Paediatric Respiratory Medicine and then returned to his native Scotland in 1991 as a Lecturer in Child Health at the University of Aberdeen and in this year, he also completed his MD at the University of Manchester. He returned to Bristol in 1993 having been appointed as a Consultant Paediatrician in Southmead Hospital.
In 1995 John made the unusual move from an NHS Consultant post to an academic position, Consultant Senior Lecturer in Child Health at the University of Bristol. John achieved internal promotion to Reader (Honorary Consultant) in Paediatric Respiratory Medicine in 2005 and to a Professorship in Paediatric Respiratory Medicine in 2009. John also held Fellowships from the Royal College of Physicians (England and Edinburgh) and the Royal College of Paediatrics and Child Health. Clinically, John was fully trained in Paediatric Respiratory Medicine, Neonatal Medicine and Paediatric Intensive Care, demonstrating his commitment to children who were ill.
John focused his research on respiratory medicine and his early research career was based around understanding the physiology of the respiratory system in children and infants. Later, asthma became his main research interest and in parallel he started to move his clinical work towards this common and distressing condition. John developed research expertise on the epidemiology of asthma and allergy in children, increasingly working with the Avon Longitudinal Study of Parents & Children (ALSPAC) from 1997 on, when he planned and hosted the first ALSPAC workshop on asthma and lung function. John became a co-applicant on the Wellcome Trust/MRC Strategic Awards that, after an initial period of a hand-to-mouth existence, emerged as the core support for ALSPAC on top of generous University of Bristol investment. As he became more embedded in the study, his natural leadership skills started to emerge. Jean Golding had bravely initiated this longitudinal cohort study in the early 1990s and as it grew the responsibilities and size of the study meant that more University academics were bound to become involved. Within ALSPAC John established a programme of respiratory follow-up that included lung function measurements, assessment of allergies and longitudinal information on wheezing illnesses and asthma through childhood. He focused on identifying different phenotypes of asthma in early childhood and how genetics and environments influence their development. Through the ALSPAC cohort John also made substantial contributions to international collaborations to conduct genome wide association studies, known as GWAS, of asthma and allergies. He was a co-applicant on successful major funding bids from the MRC, the Wellcome Trust, the US National Institutes of Health and the UK National Institute for Health Research, among others.
John published widely and extensively and was a much-sought after speaker at international meetings. ALSPAC leadership changed with George Davey Smith taking on the study director responsibilities and John became a Co-Director. In this role he nurtured and developed key future leaders with encouragement and support, gently setting an example and always on the front foot to help with any difficulties. An external review of ALSPAC operations in 2016 concluded a new study management strategy should be instigated, with George continuing as Scientific Director. At this point John stepped in and without question took on the role as caretaker of the study, formed a new board and approach to the management of the study – ultimately supporting Nic Timpson as the new Principal Investigator. No-one could have supported Nic more closely than John, who not only aided this process but continued to offer help and advice through a period of considerable change. John attended all board planning meetings for the latest renewal which was led by Nic. Characteristically modest, John did not want to be named on the application, he had set his retirement plans and knew he would not be working to the end of the renewal. Ironically, after such a substantial contribution, the award was confirmed a week after John's death. His influence in research will perpetuate through ALSPAC for many years.
There was a major Biomedical Review at the University of Bristol in 2014 with a decision to create a single Bristol Medical School from the two existing schools (Clinical Sciences, and Social and Community Medicine) as well as creating a new Faculty of Health Sciences. Bristol has always trained good doctors who do well post-graduation but the medical programme scored poorly in terms of student satisfaction, and consequently featured much lower in league tables for medicine than it should. There was clearly a need to do something with an impending GMC visit and as a new entity, the Bristol Medical School was able to influence change. A curriculum review was needed.
About this time John was moving away from clinical practice and NHS management. He continued to enjoy his research but was keen to become more engaged with teaching. A solution was to move to a full-time academic role and to cease clinical work. John was ideally positioned to take on a more pre-eminent position in medical education, a great clinician and an academic with clear ideas about the training of tomorrow's doctors.
The brilliant combination of John and Eugene Lloyd was appointed to lead this change, charged with the gargantuan task of (in his own words) creating a curriculum that was fit for educating doctors that would practice medicine in the 21st Century. They envisaged the rapidly evolving health and social care environment and were cognisant of the impacts of medical and technological advances on patient care, now and into the future. This programme was referred to as MB21. John went on at the time to describe the task as being akin to designing and building an aircraft after it has taken flight (while being shot at from the ground). Despite all the difficulties that Eugene and John faced, this new curriculum moves into its third year this coming month, has been much acclaimed thus far and its first graduates are set to leave the Medical School in the summer of 2022. What an achievement and what a pity that John will not see that happen, but his legacy will continue through the generations of doctors that will be trained using this curriculum.
The Bristol Medical School has had an excellent GMC report, has much improved student satisfaction and sits in the higher reaches of the league tables. John was a major influence in all these changes which are down to team work but need strong leaders who can carry many people with them. John could do this; his leadership style was always to take responsibility and to be fair to all. Indeed, one of his characteristics was that he would always put others before himself and would not tolerate injustices or overclaiming credit for success. John was modest and honest, he remains one of the very few clinical academics who no-one has ever said a bad word about and was fundamentally kind to everyone. These are very rare attributes in medical academia. John sought no accolades and his dry sense of humour is well illustrated by an occasion when John was sitting in a fourth-year exam board as the names of failing students were revealed. When one name appeared (a member of a very well-connected family), John put his head in his hands and lamented "Oh no, there goes my chance of ever getting a knighthood".
John was an ardent supporter of Scottish rugby which at times has been a very difficult place to be. He was a keen cyclist and swimmer; his fitness was the envy of many. His family life was very separate from his work life. It was quite astonishing how little his family knew of his major achievements and influence as well as the high esteem in which he was held by all his colleagues and students. This was typically John, he did not see his work as exceptional, or that he was exceptional. He was, and in every sense, he is, someone we should all aspire to emulate. His death is a tragic loss to humanity.
John died on the 24 July 2019 in St Peter's Hospice, Bristol at the age of 61. He is survived by his wife Nicky and his two sons Finn and Ali.
A celebration of John's life has recently been published in The Telegraph.