View all news
University of Bristol appoints new Deputy Vice-Chancellor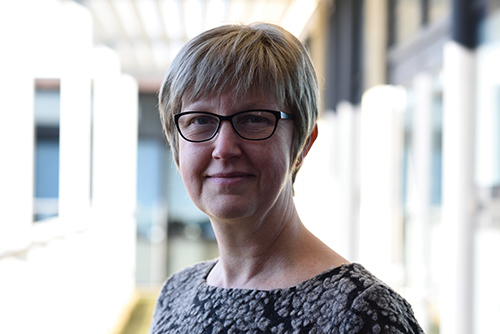 19 October 2018
The University of Bristol is pleased to announce the appointment of Professor Judith Squires to the post of Deputy Vice-Chancellor and Provost, with effect from 1 January 2019.
Professor Squires will be responsible for driving the highest standards of academic excellence across the University and overseeing the achievement of key objectives in the University's Strategic Plan.
She will be responsible for supporting the University's community of scholars and core academic values, overseeing the portfolio of University academic strategies and ensuring their delivery as part of a coherent institutional schedule of activity.
Professor Squires is a social scientist who completed her MA in Politics (First Class Hons) from the University of Edinburgh, and her PhD from Queen Mary University of London (QMUL). She took up her current post as Pro Vice-Chancellor for Education and Students at the University of Bristol in 2013.
Prior to that, Professor Squires was Dean of the Faculty of Social Sciences and Law, from 2009 to 2013. She has been a Council member of the ESRC since 2014 and was a member of the Politics and International Relations REF 2011-14 sub-panel.
She is Chair of the Bristol Cultural Development Partnership Board and a member of Bristol's Festival of Ideas Advisory Board; a founding member of the Bristol Learning City Partnership Board; a Director of Bristol Green Capital Partnership; a Fellow of the Academy of Social Sciences and the Royal Society of Arts (RSA).
Professor Squires said: "It will be a huge privilege to serve the world class community of scholars at the University of Bristol in this new capacity. The vision within the University's Strategic Plan is inspiring, and I look forward to working with the University's Pro Vice-Chancellors, Deans and Heads of School, to shape the University's rich and rewarding culture to provide the opportunities for academics to pursue their finest research and deliver the highest education for our students."
Professor Hugh Brady, Vice-Chancellor and President of the University of Bristol, said: "I am delighted with Judith's appointment to this important leadership role at Bristol. Her service as Dean of Social Science and Law and more recently as Pro-Vice-Chancellor for Education and Students was exemplary.
"She has been a key architect of several important initiatives in our new University Strategy including the Bristol Scholars widening participation programme, our ground-breaking Bristol Futures courses and the Bristol Institute for Learning and Teaching. I look forward to working closely with her over the years ahead."
Professor Guy Orpen, the current Deputy Vice-Chancellor & Provost, will become DVC for new campus development from 1 January 2019. In this role he will lead the Temple Quarter Enterprise Campus programme.
The University will seek to appoint a new Pro Vice Chancellor (Education), who will work closely with the appointee to the newly-created post of Pro Vice Chancellor for Student Experience. It anticipates that both appointments will be made during this academic year, with interim appointments from the 1 January to provide the institution with appropriate continuity in these vitally important roles.