View all news
International scholars share their aspirations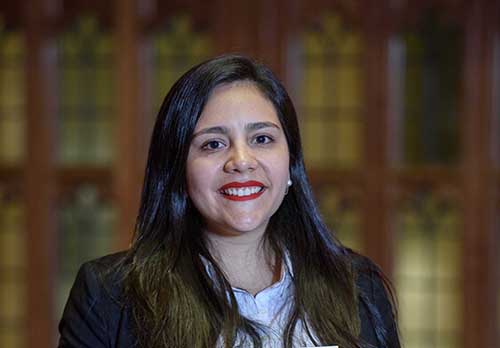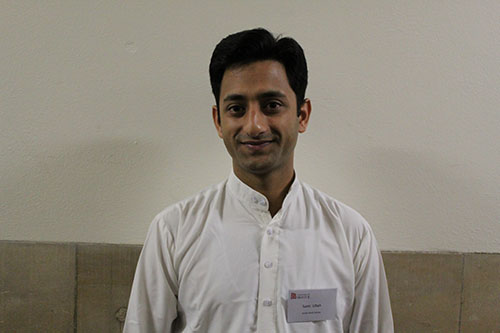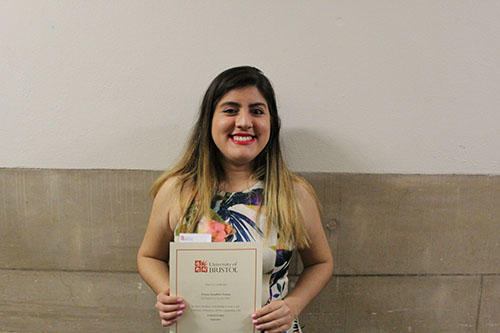 Press release issued: 12 October 2018
A warm welcome was received by over 100 students at the University of Bristol's International scholar's reception.
The event was held at the historical Will's Memorial building and was enjoyed by scholars from across the globe. Several of the scholarship funding bodies were present to celebrate their scholars. The University works with over 30 sponsor organisations worldwide, supporting a range of studies across the faculties.
It was the first opportunity to welcome the University's 'Think Big' scholars which launched this year offering 34 international student's scholarships. The programme name was inspired by Vice-Chancellor Professor Hugh Brady's speech at last year's reception where he urged students to 'Think Big' about the world they will have the opportunity to shape.
Encouraging the scholars to build friendships that may serve them well in the future, the Vice Chancellor commended the scholar's vision and bravery for pursuing an international education away from home. Professor Brady reminded them that in their research and education they have the chance to combat global challenges through cross country and institutional collaboration, which will be aided in their education and research studies during their time in Bristol.
The Deputy Mayor of Bristol, Asher Craig, was also in attendance. During her address to the students she informed the scholars that they should consider the city of Bristol as 'open for business' and welcomed the students to come forward with their thoughts around social policy in the city.
Some of our international scholars shared their hopes for the future and what drives them in their studies.
---
Think Big & Santander Scholar Carolina Rodriguez Guillen, from Peru,is studying Ethnicity and Multiculturalism (MSc)
What drew you the University of Bristol?
Basically three things: academic excellence, new perspectives of research, and a diverse cultural environment.
What are your thoughts so far?
As soon as I arrived here I knew that the choice I had made wasn't wrong. I can say as a Latin woman I feel safeand welcome in this gorgeous city. I noticed people here are very friendly, interesting and collaborative. Also, the cultural events which take place in this city are one of its greatest attractions, I had a lot of fun in all the events I have attended so far. Finally, but not least, what I really love of Bristol are its public spaces; such as parks, streets, hills and boardwalk, these places make me want to walk around the city all the time.
What inspired you to select your course?
I decided to apply to the MSc Ethnicity and Multiculturalism, because I was looking for answers to such complex matters as race, racism, ethnicity, multiculturalism, interculturalism.
I want to use this information to understand Peru's society, its problems and give (through public policies and law) some solutions. I am eager to absorb and share as much as I can from the teachers and my fellow mates. I really want this studying experience to bring out the best of me and to give me the academic and personal knowledge that I need to help my country.
What drives you?
What drives me is my family and the authentic love I feel for my country and its people. What makes me get up every day is the idea of a better Peru, in which all Peruvians feel proud not only for the things we have in common, but mainly for our differences.
What are your ambitions for the future?
I have two main ambitions;
1 - teaching future generations what all Peruvians are worth, education of future generations is the key to solve social problems like racism
2 - working alongside the public and private sector in order to achieve bigger changes regarding ethnic inclusion and non-discrimination matters
I would like to create an NGO which applies non-discrimination perspective in the labour field. I would love to work with the government, as I've already done, to create a national non-discrimination public policy and an equal treatment and non-discrimination Act.
---
Zutshi-Smith scholar, Sami Ullah, is studying Functional Nanomaterials (Ph.D.)
Tell us a bit about where you are from:
I am from Jammu and Kashmir State of India, from Kashmir province actually. Kashmir, my home province, is famous for its beauty and is famously called 'paradise on earth'. Although the place is torn by conflict this has not deterred my thirst for study.
What do you think of the city?
I can see the British have preserved their traditional architecture in this city, I like the buildings. I like the diversity here and the way people welcome foreigners in Bristol.
Why the University of Bristol?
The university's status in ranking and in research is what lead me to travel all the way here for higher studies.
What do you want to achieve with your studies?
I just want to learn all the aspects of my course fully and get some good publications and then serve others, preferably in my home country.
What I want to do is to serve the people in general and those of my nation in particular.
What drives you?
What drives me in this are the religious teachings that I adhere to, or at least try to adhere to, to the best of my level. Since I am a Muslim, and come from a place with a Muslim majority, seeking knowledge even if we have to face hardships is what is expected of us. Then to convey this to other people is what is deemed as an act of highest merit, this is what motivates me in my ambitions.
---
Colfuturo & Santander Scholar, Viviana Santofimio Tamayo, is Colombian and studying Development and Security (MSc)
Tell us a bit about where you come from?
I am from Colombia and I used to live in the amazonic region. Colombia is multicultural and biodiverse country. In terms of biodiversity, the amazon is one of the richest part of the world. I did my bachelors in Government and International relations in Colombia.
What drew you to the University of Bristol?
The quality of education, being of the best universities in the UK and the world as well as it's incredible wellbeing and study services for students. Also Bristol is one of the few institutions that offers this combination of subjects, which I think is essential for countries like Colombia.
What do you like about the city of Bristol?
Bristol is a really warm city for students, I think that it's a beautiful medium size city, however you find something new to do every day. I like the mix of architectures, churches from different religions and the many green areas around the city. But what I like most is the kindness of the people from here, that makes you feel like home.
What are your passion for your studies?
My dream is to make a positive change for the world, that is why I want to learn as much as possible about different strategies in development area and apply this to the regions where is most needed. I am also interested in the area of conflict, security and development because I consider it is a key aspect for the next year in the Colombian peace process.
How do you hope to apply these in the future?
Because in Colombia we are living a transition process from a long war, we need to prepare ourselves to make the change to a better life possible and make it last in time. I want to come back to my country and work in the design of policies of improvement the quality of life in regions affected by the armed conflict and illegal economies, like the one I am from.
My goal is to create new opportunities for those communities and change the culture of violence through sustainable development in Colombia.
Your ambitions for future?
I would like to work with United Nations Development program or with Colombian government in public policy research.
Further information
For more information on our range of scholarships at the University of Bristol, see here.