View all news
Tackling Bristol's 'educational inequality crisis'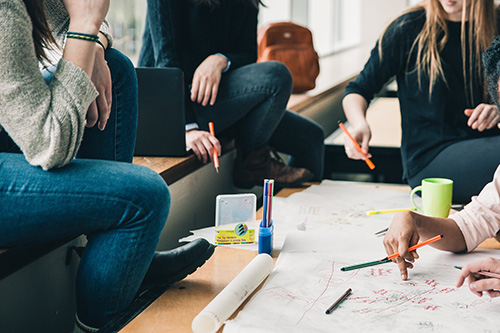 Press release issued: 9 October 2018
There is a shocking divide in educational opportunities for young people in Bristol depending on where they live in the city, new research from the University of Bristol has confirmed.
A lack of opportunities for young people living in disadvantaged areas has resulted in stark differences in progression rates to higher education, ranging from 8.6 per cent in Hartcliffe in South Bristol to 100 per cent in Clifton in West Bristol.
Schools and stakeholders from across the city will discuss a series of recommendations to tackle what researchers describe as an 'educational inequality crisis' at an open forum being held in City Hall on 9 October, organised by the University of Bristol, UWE Bristol, South Bristol Youth and the rest of the Future Quest collaboration.
While this attainment gap has long been known and debated, there has been a tendency to attribute it to individual schools and their need to improve.
However, researchers have identified additional factors which are acting against young people living in the most disadvantaged areas, which are largely in the south, east, and north west of the city.
One of the main barriers is that the vast majority of secondary schools located in these areas do not offer A-level or BTEC qualifications, which are required for university entry. Indeed, 10 of the 11 schools in Bristol which don't offer this type of post-16 education fall within these more deprived wards.
Post-16 centres and colleges are concentrated in limited geographical areas, resulting in a lack of choice for young people. Lack of effective public transport to enable students to travel to these Post-16 centres and colleges also exacerbates the situation.
Historic and class-based factors further compound the situation, with young people from the more disadvantaged areas being less likely to receive good advice about access to higher education and related careers.
Furthermore, the majority of young people from the more disadvantaged areas of the city are likely to be the first in family to progress to higher education and even the first in their family to progress to post-16 education. Their families do not have the knowledge or contacts to help them navigate the system.
Professor Rosamund Sutherland, who led the research in the School of Education at the University of Bristol, said: "Bristol is considered to be a prosperous city with an educational system that on average performs well. In reality, Bristol has more areas categorised as being in the most deprived 10 per cent in England than other cities in the country, with stark differences in educational opportunities for young people depending on where they live.
"Addressing these inequalities is a collective responsibility; everyone has a role to play, from the local authority to schools, FE colleges and universities.
"Our research has clearly shown that a combination of structural factors are working against the most disadvantaged students in Bristol. Now these barriers have been identified, we need to urgently start addressing them."
Researchers analysed data, carried out surveys and spoke to focus groups to identify barriers and possible solutions.
The research was part of an evaluation of the South Bristol Youth Ambitions Programme, funded by and delivered in collaboration with the University of Bristol and UWE Bristol. The programme is now part of a wider collaboration called Future Quest.
Statistics from the Office for Students indicate that many young people from the low participation wards are achieving the GCSE grades that are expected for admission to higher education, yet do not progress.
For example, the GCSE results for young people in Hengrove suggest that 22.2 per cent could continue into higher education and yet only 14.2 per cent of pupils do so. Such areas are known as 'gap wards' – a term which describes over half of Bristol's 35 wards.
To bridge these gaps and ensure Bristol fulfils its aim of becoming a Learning City with equal educational opportunities for all, researchers recommend:
The establishment of an educational partnership board with representatives from schools, academy trusts, post-16 colleges, FE colleges, universities and the local authority.
All schools and Further Education Colleges in Bristol take responsibility for increasing the proportion of their students from 'gap wards' who progress to higher education.
Bristol City Council to estimate the year-on-year additional number of Post-16 places for A-level and BTEC qualifications that are needed in Bristol if the progression rate to higher education is to reach the national average across all areas of Bristol.
Local transport systems need to allow students from all areas of the city to easily access appropriate A-level and BTEC provision, to enable them to have choice when progressing to higher education.
The establishment of a young people's board to ensure young people are aware and can help address the educational inequalities that exist.
Businesses in the city should continue to work in partnership with education providers to ensure a joined-up approach to education and employment.
Further information
About Future Quest

Future Quest is a collaborative project led by UWE Bristol and involving the University of Bristol, City of Bristol College, SGS College, Bristol Learning City, West of England Combined Authority, South Bristol Youth and Ablaze. It is part of the National Collaborative Outreach Programme funded by the Office for Students and is designed to increase participation in Higher Education in the target gap wards. The programme represents a significant programme of progressive outreach in 30 secondary schools and colleges in the Bristol City region, it is based on evidence and provides a future network for joined up outreach across the city.
University of Bristol outreach programmes

The University of Bristol co-sponsors two IntoUniversity centres in Bristol, one in Easton and one in Withywood. Each centre is a higher education presence in the local community which provides a range of programmes working over the long-term with young people aged seven to 18.
Bristol Scholars provides up to 10 guaranteed, tailored offers for 'high potential' Year 13 students from schools in the city. Eligibility for the scheme is based on the headteachers' assessment of potential and progress rather than examination results alone. To be eligible for the scheme, students must have overcome educational or domestic disadvantage. The scheme is intended to capture the missing talent we know exists in our locality and to demonstrate the University's commitment to Bristol's schools and colleges. Bristol Scholars is now entering its third cycle and we are proud that more than 70 students from the city who have taken this route are studying and succeeding with us.
Access to Bristol is designed to encourage and inspire pupils who might not otherwise consider going onto higher education. It's open to anyone studying for A-levels or equivalent at state schools and colleges in and around Bristol. Participants gain a unique insight into what it's like to study at university, try out facilities and work with current students. The University of Bristol has run Access to Bristol since 2006. In that time, around 3,500 students have completed the course and over 500 have gone on to study at the University.
UWE Bristol outreach programmes
In addition to the Future Quest programme, UWE Bristol works extensively with schools and colleges in the Bristol city region. UWE Bristol is the lead for the local Children's University promoting extra-curricular activity for primary school children.
UWE Bristol also delivers exciting outreach opportunities linking university research to national curriculum levels and including trained students in the delivery. UWE Bristol works collaboratively with schools to address educational inequalities in the city through collaborative research and knowledge exchange projects and supporting school development through sponsorship or governance roles – more than 50 UWE staff members hold a school governor role.