View all news
Bristol students celebrate their Chinese internships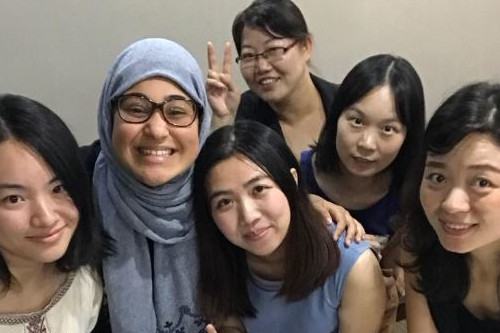 Press release issued: 23 October 2018
The Bristol Interns in China programme (BIC) has welcomed the return of the first cohort of students.
BIC is a brand-new University initiative enabling widening participation students to access international experience and gain valuable overseas work experience.
First-year students on a full undergraduate degree are able to work and live in China, fully funded. The opportunity enables valuable insight into Chinese culture and business, building cross-cultural skills and at the same time acquiring hands-on business experience.
The initiative was delivered in partnership with the British Council and saw 12 students complete 8-week placements with Chinese businesses.
In preparation for their placements the students, some of which had not travelled outside of the UK before, were provided with a year of language and cultural preparation classes.
The students who are from a cross-section of disciplines and a diverse range of backgrounds were able to celebrate and share their experiences at a reception earlier this week. It was also an opportunity to pass on advice to the next cohort who will travel to Shenzhen in 2019.
Three of our first ever BIC students offered a glimpse into their time in China:
Name: Gemma Waldron
Course: BA English
From: Wiltshire
Interned with: Andun IP Protection Company
"I saw China as a unique opportunity to gain insight into working in a vastly different culture to my own. It was a huge personal challenge to be away from home for a sustained period of time, for the first time in my life. I found the experience enormously positive, confidence-boosting, and inspiring, and will now consider actively seeking employment that offers travel."
Name: Ian Mutanga
Course: Medicine
From: I am a Herefordian of Zimbabwean parentage
Interned with: European Pharma Group BV (EPG)
"I was keen to learn Mandarin, Chinese culture, Chinese Medicine as well as the Chinese business approach. I expected China to be as it was advertised in the Western Media, but the Chinese people and Shenzhen could not have been any more different. It took a few days to adapt to the different surroundings and the curiosity that by Chinese people openly display when they see anyone who is non-Chinese. After adapting and getting over the non-malicious stares and intrigue I found the Chinese people to be extremely warm, welcoming and accommodating.
The language was initially challenging but continual efforts were duly noticed and recognised by the local people who met us halfway during conversations (whether on the bus, walking or trying to order food). Between our broken Mandarin and their broken English, we communicated and at the end we were well versed in the local terminology and some lingo and got around with much ease. I didn't get much of an opportunity to see Eastern Medicine but I observed how some hospitals had Eastern Medicine Department in-house. I gained an appreciation of how highly they regard Eastern Medicine.
I also learned about and got to appreciate how the Chinese conduct business. I discovered that they tend to, for example, extend negotiations far beyond the agreed deadline and that one has to accept their delays and not to mention deadlines to strongly. Patience is very much appreciated! They also very much appreciate it if you use a couple of words in Chinese, but one has to be aware of the meaning and the appropriate occasions amongst other business approaches I could mention.
The experience was extremely positive and I would certainly like to return at some point and would happily recommend that anyone go and enjoy this beautiful country with its amazing people."
Name: Manar Lamzini
Course: BSc Psychology
From: Oxford but ethnicity is Moroccan
Interned with: Guangdong Innovative Talents Promotion Association (ITPA)
"I think the main reason I wanted to go is to experience the Chinese culture. As a psychology student, we have always learned about Asian culture as a contrast to western culture so I really wanted a front-row seat to this. The experience was amazing! I think two months was a good time for me to properly learn and integrate myself into the culture. In terms of culture, I learned so many things like just how much Chinese people love to cycle. The company I was in was a Chinese company and so interning here gave me an insight into their work relations. These relations were so friendly and cooperative that it felt like I was working with one big family. Everyone always spoke to one another and laughed with one another so you never felt alone. Other things I learned in this internship were things like Intellectual Property law. On a more personal basis, this internship made me learn just how capable I was of being alone (outside my work-place). On the weekends I would go out alone exploring and even made it to Hong Kong alone for the weekend. Planning my routes to these site-seeing destinations has really build my confidence! Now I don't feel that I need a companion to be able to travel at all."