View all news
Senior leadership appointments in the Faculty of Arts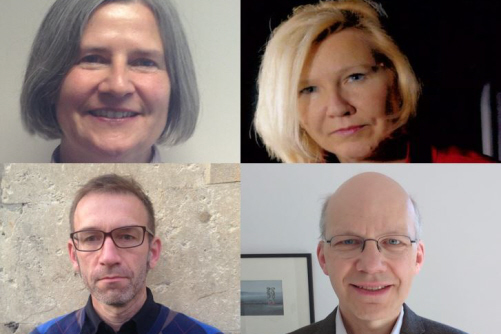 Press release issued: 17 May 2018
The Faculty of Arts at the University of Bristol is delighted to announce the appointment of a number of eminent academics to key senior leadership roles.
Professor Karla Pollmann will become the Dean of the Faculty of Arts from September 2018.
Professor Pollmann is currently Professor of Classics and Head of the School of Humanities at the University of Reading. Prior to that she was at the University of Kent, where she held several leadership roles, including Deputy Dean of the Faculty of Humanities, Deputy Head of the School of European Culture and Languages, and Head of the Department of Classical and Archaeological Studies. She has also held academic appointments at Bielefeld University, the University of Konstanz, and the University of St Andrews.
She is a leading authority on the work of Augustine and a world-leader in the study of his influence across the ages. She has written widely on interdisciplinary projects combining Classics, Theology, Philosophy, Cultural History, Literature and Reception Studies.
She has led a number of significant interdisciplinary projects, including a Leverhulme Trust funded project involving 400 international collaborators, which resulted in the three-volume Oxford Guide to the Historical Reception of Augustine (OUP 2013), and an EU-funded Marie Curie project (total four million Euro) on the History of Human Freedom and Dignity in Western Civilisation. In recognition of her contribution to scholarship she has received honorary appointments at the Universities of Aarhus, Denmark, and of Stellenbosch, South Africa, and at Green College, University of British Columbia, Vancouver. She has also been elected as a Member of the Academia Europaea.
Professor Pollmann has held a number of learning and teaching roles, including being learning and Teaching Representative of the Department of Classical and Archaeological Studies at Kent, and Director of Postgraduate Studies at the University of St Andrews. She is a Senior Fellow of the Higher Education Academy.
Commenting on her appointment as Dean of the Faculty of Arts, Professor Pollmann said: "I am delighted to be joining the Faculty of Arts at the University of Bristol. The Faculty is at an exciting phase in its development, having benefitted from significant investment in new academic staff posts and with work on a new £13 million Humanities Building, due for occupancy in September 2019, about to start.
"The Faculty benefits from the breadth and depth of its disciplines and, in line with the #ArtsMatter campaign for the Faculty, Arts and Humanities disciplines make a significant contribution to the identity, well-being and prosperity of our Western Society.
"I look forward to advancing our reputation and connections across the Faculty, University, city, and beyond. I am passionate about equality, diversity and inclusion and will encourage the Faculty to build on its recent progress to be an exemplar of best practice in this area."
Professor Mary Luckhurst will take up appointment as Head of the School of Arts in January 2019.
Professor Luckhurst is a theatre historian, theorist of practice and process and a theatre director with an international reputation in dramaturgy and the articulation of the processes of theatre-making, especially writing, acting and directing.
She completed her BA and PhD at Cambridge University, has an MSc from the LSE and an MA in Performing Arts from Middlesex University. She is also internationally recognised for her interdisciplinary research in theatre and human rights, actor training, theatre and cultural heritage, theatre and war, and theatre and celebrity. She regards theatre as a political project and is highly influenced by Brecht and feminism.
She is currently Professor of Artistic Research and Creative Practice at the University of Melbourne and was appointed on the University's elite Research Mobility Accelerator Scheme in 2014. She has served as Associate Director Research across various arts disciplines at a time of the University's quest to integrate more fully with Melbourne's South Bank Arts Precinct. Prior to this, she was at the University of York UK for 16 years, initiating Drama and English degrees in the Department of English and Related Literature. In 2007 she co-founded the innovative, industry-oriented Department of Theatre, Film and Television, working with Greg Dyke and leading actors and directors in the UK.
Mary was awarded a National Teaching Fellowship by the HEA in 2009 and named one of the 50 best university teachers in the UK. She was made an International Scholar by the HEA in 2012 in recognition of her outstanding international record in research and teaching. She has been a distinguished fellow at a number of universities, including Sydney University and CUNY, and was Oxford University's Professor of the Humanities in 2017.
Her many books include: Caryl Churchill, Theatre and Human Rights since 1945: Things Unspeakable, Theatre and Ghosts, Dramaturgy: A Revolution in Theatre, Theatre and Celebrity 1800-2005, and two Blackwell Companions on British and Irish Theatre. She has written many articles and book chapters. She is currently working on two projects: contemporary celebrity actresses and their negotiation of their careers; and on contemporary Gothic theatre and performance, dark tourism and cultural heritage.
Commenting on her appointment, Professor Mary Luckhurst, said: "I am thrilled to be leading the School of Arts at such an existing phase in its development. The School has a breadth of disciplines; in Film and Television, Music, Theatre, Philosophy and Anthropology and Archaeology.
"I want to showcase the practical and creative aspects of our work. Bristol has an extensive cultural scene and I want to really get us known for the quality of our work and for the wide-ranging connections and partnerships from which we can build yet further."
Professor Martyn Powell will become Head of the School of Humanities in August 2018.
Professor Powell is currently Professor of Modern Irish History and Head of History and Welsh History at the University of Aberystwyth. He has also had a spell as Acting Director of the Institute of Geography, History, Politics and Psychology.
Professor Powell's primary research focus is on Ireland in the eighteenth century, and his teaching and research interests extend into the twentieth century and also include the British Empire and America. Publications include Britain and Ireland in the Eighteenth-Century Crisis of Empire; The Politics of Consumption in Eighteenth-Century Ireland; Piss-Pots, Printers and Public Opinion in Eighteenth-Century Dublin: Richard Twiss's Tour in Ireland, as well a co-edited volume and a long series of journal articles and chapters. Two further books will appear in 2019. He is currently also Co-Investigator on a Leverhulme Grant on the Political Works of Richard Brinsley Sheridan, which will culminate in a four-volume edition contracted to OUP. He has had a series of overseas fellowships and editorial positions.
At Aberystwyth, Martyn Powell has won a number of University teaching awards and a student nomination for the 'Most Significant Contribution to University Life'.
Professor Martyn Powell said: "I am delighted to be joining the University as Head of the School of Humanities at Bristol. I'm an interdisciplinary scholar by instinct, and I am excited to be able to support all of the different Departments within the School.
"I can't wait to bring some of my own experiences to contribute to the excellent work that is being done on student experience and teaching innovation. I'm equally keen to support the School's advances in postgraduate and international recruitment, in widening access, and of course, in its REF preparations."
Professor Andreas Schönle will take up appointment as Head of the School of Modern Languages in August 2018.
Professor Schönle is currently Professor and Head of Russian at Queen Mary, London, where he has worked since 2005, having previously taught at Harvard and the University of Michigan. He has written very widely on Russian literature, culture, social and intellectual history from the eighteenth century to the present day, and is the author of major books on Russian Travel Writing, Politics and Landscape Design in Imperial Russia, Russian Ruins and Historical Consciousness, and the Europeanisation of the Russian Elite. His several edited and co-edited books include an important multidisciplinary volume on Lotman and Cultural Studies.
At Queen Mary, Professor Schönle has been Director of Research both for Modern Languages and for the School of Languages, Linguistics and Film. He has also had a period as Deputy Head of School, and contributed significantly to the design and success of Queen Mary's MA in Comparative Literature. His background is multilingual and multinational. He serves on a number of prestigious external bodies and is a Fellow of the British Academy.
Professor Schönle said: "I am delighted to join the School of Modern Languages and regard its dynamic, supportive and collegial approach as real assets. My priorities include ensuring that our students become ambassadors for multilingualism, strengthening our widening participation activities and globalising programmes where possible.
"I am also keen that the School continues to explore innovative language teaching methods and makes connections between language and other modules."
Commenting on the appointments, Professor Michael Basker, the current Dean of the Faculty of Arts said: "I am delighted that the Faculty has made such strong appointments. In Karla, Mary, Martyn and Andreas, we have exceptional academic talents with distinguished reputations. Individually, they will enable each School to flourish.
"Collectively, they will be a very impressive team, supported by our very capable Faculty Officers, and take the Faculty in new directions, building new connections and enhancing our reputation yet further. I am pleased to be leaving the Faculty in such a strong position.
"I would also like to thank the current Heads of School – Professor Susan Harrow, Professor Ronald Hutton and Dr Neal Farwell for their tireless work and efforts to lead their Schools and to support the wider Faculty."
Further information
About the Faculty of Arts
The Faculty of Arts at the University of Bristol has an outstanding reputation for education and research, advancing new ideas and insights across a wide range of subject areas. The Faculty is actively committed to collaboration and its size and comprehensive range enable it to offer a wide range of choice to both undergraduate and postgraduate students. Staff and student numbers have expanded rapidly over the last four years (the Faculty has grown more than 30 percent since 2011-12, such that over 50 percent of its research active academics have joined since 2012). The Faculty currently has well over 4000 undergraduates, approximately 500 postgraduates and almost 300 academic and professional services staff. It has recently been the focus of continuing large-scale university investment including of £1.3 million to create 23 new academic staff posts and investment of £13million for a new Humanities Building, which will be ready in 2019.
It is one of the six Faculties that form the academic organisation of the University of Bristol and comprises three Schools (Arts, Humanities and Modern Languages) and the following academic subjects: Anthropology and Archaeology; Classics and Ancient History; English; French; German; Hispanic, Portuguese and Latin American Studies; History; History of Art; Italian; Music, Film and Television; Theatre; Philosophy; Religion and Theology and Russian and Czech. The Faculty also currently houses the Centre for English Language and Foundation Studies, which provides English language services and academic skills and literacy support to the whole University, and the Centre for Innovation and Entrepreneurship, which runs a suite of eleven joint-degree programmes 'with Innovation'.
The Faculty hosts the AHRC-funded South, West and Wales Doctoral Training Partnership and also has a range of study spaces, seminars and activities to support postgraduate students. Researchers and postgraduates are actively involved in a wide range of loosely constituted Faculty research clusters and six Faculty Research Centres have been created recently to focus research strengths over the coming period (Centres for Black Humanities; Environmental Humanities; Humanities, Health and Science; Material Texts; Medieval Studies; Science and Philosophy).
The Faculty also hosts an Institute of Greece, Rome and the Classical Tradition, a Bristol Poetry Institute and the outstanding Bristol Theatre Collection, which is an accredited museum and one of the largest archives of British theatre history and Live Art in the world. The Faculty collaborates ever more closely with the cross-disciplinary University Research Institutes: The Cabot Institute (environmental change), The Elizabeth Blackwell Institute for Health Research, the Brigstow Institute (new ways of living and being) and the Jean Golding Institute for Big Data. Two of these are led at present by Arts academics; a reflection of the outward-looking integration into the broader research environment.