View all news
Exhibition to mark 200th anniversary of London Old Vic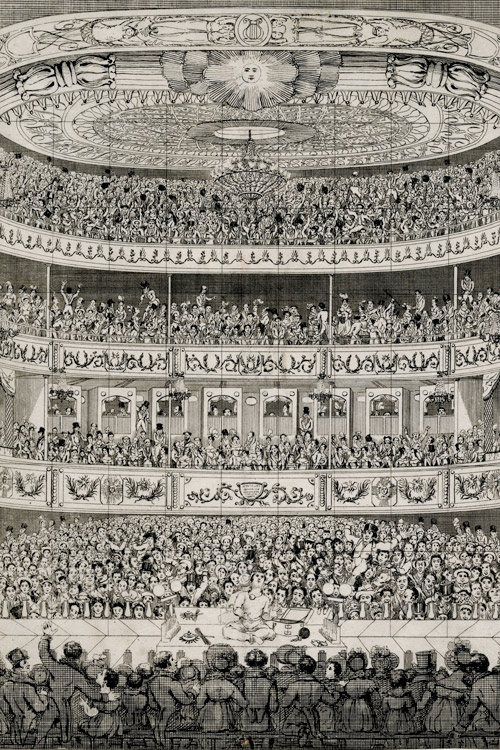 Press release issued: 17 May 2018
An exhibition has opened at the University of Bristol's Theatre Collection to mark the 200th anniversary of the first public performance at one of the UK's most prestigious theatres, the Old Vic in London.
The display, which is free to visit, features a selection of items relating to key moments and personalities in the theatre's history.
One item on display is a fragment of the famous 'looking-glass' curtain, an extravagant attraction installed in 1821 at huge expense.
Weighing five tonnes, it was suspended from the roof placed at the back of the stage, reflecting the watching audience. The novelty soon wore off however, and it eventually had to be removed due to fears it would cause the building to collapse.
The exhibition also features the two most significant women in the theatre's history, Emma Cons and Lilian Baylis.
A number of personal items such as Lilian Baylis's distinctive horn-rimmed glasses are on display, as well as items that explore the major influence each had on the theatre's direction.
In particular, the exhibition explores how the Old Vic became so closely associated with Shakespeare in the 1910s and 1920s.
The exhibition also acknowledges Lilian Baylis's huge achievement in purchasing and restoring Sadler's Wells and founding, in conjunction with Ninette de Valois, the Vic-Wells Ballet. This company was the predecessor of the Royal Ballet.
The exhibition will be open Tuesday to Friday, 9.15am – 4.45pm until Autumn 2018. Please check www.bristol.ac.uk/theatre-collection/visit for more details and up to date opening information.
Further information
The Theatre Collection is one of the world's largest archives of British theatre history and Live Art and is an accredited museum and international research facility open to all.
Founded in 1951 to serve the first UK university drama department, our collections cover the period from 1572 to the 21st century. Visitors include everyone from international scholars to family historians.