View all news
Professional award for Social Sciences cleaner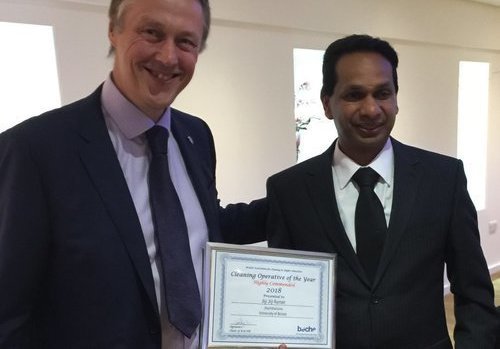 29 May 2018
Ji Ji Kurian, Cleaning Operative at the University's Social Sciences Complex, was runner-up in the 'Cleaning Operative of the Year' awards at the annual British Association of Cleaning in Higher Education (BACHE) conference in May.
Mr Kurian was nominated for his high degree of professionalism and his work beyond the usual expectations of his role.
Tawanda Chibaya, Cleaning Operations Manager at Bristol, said: "We are delighted for Ji Ji. It is a fantastic achievement that members of our cleaning team who work hard and are passionate about delivering an excellent student experience are not only recognised within our institution but also nationally within the sector. We hope the achievement is recognised for those nominated and for the team as a whole."
Two other members of the University's cleaning team, Supervisors Kim O'Donnell and Jan Chappell, were also highly commended.