View all news
Record year for science spin-outs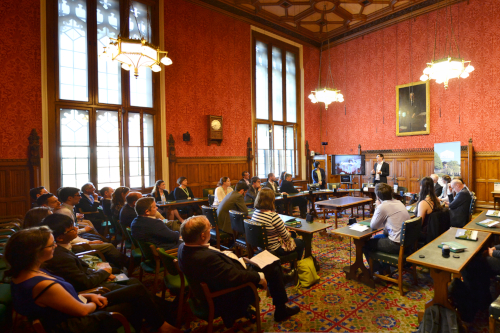 Press release issued: 8 June 2018
The University of Bristol created a record number of scientific spin-out companies last year thanks to its thriving network, including a partnership with new innovation centre Unit DX.
Seven new companies, based on scientific research carried out at the University, were established in 2017 and five have located themselves at Unit DX, based near Bristol Temple Meads railway station, which has been working closely with the University and its SETsquared incubator to help new businesses thrive.
The companies focus on a range of new technologies, from detecting methane gas leaks using drones to developing vaccine candidates for emerging infectious disease.
The University of Bristol and Unit DX were invited to Parliament by Thangam Debbonaire, Bristol West MP, to discuss the impact of their collaboration and how best to support the resulting Bristol science cluster.
One year after opening, Unit DX is home to 23 scientific and engineering companies which have created 70 jobs in the city centre. Seventeen of these have been founded by University of Bristol alumni.
Bristol alumnus Dr Harry Destecroix, Director of Unit DX and co-founder of University spin-out Ziylo, said: "We started with a mission to form a scientific ecosystem in Bristol, because without lab space and a community, it is really difficult to start science companies.
"This huge increase in the formation of new enterprises is the result of a lot of talented people coming together to help create and develop the Bristol science cluster.
"We have also benefitted from great timing: there has been increased focus from government on the commercialisation of research, along with a cultural shift amongst researchers, who now see the spin-out route as an attainable career path.
"There has also been a change in the University's approach to commercialisation, which has facilitated this shift. Now we are up and running, we will continue to focus on supporting these companies."
Unit DX year one statistics:
£5m in investment and grant funding raised by members
60% building occupancy
12 University of Bristol spin-outs
17 companies founded by University of Bristol Alumni
Jaci Barnett, Senior Investment and Commercialisation Manager at the University of Bristol, said: "There has been a great deal of work put in across the University and the wider Bristol ecosystem to enable and encourage researchers who want to commercialise their work.
"Unit DX is a key part of this, easing the transition for University spin-out companies as they leave the campus and establish a base in a commercial environment. It's been fantastic to see these companies gaining traction, taking up lab space and hiring staff from our graduate pool."
University departments such as BrisSynBio and QTEC have been instrumental in facilitating these spin-outs, encouraging researchers to consider the real world applications of their work, and supporting them through the commercialisation process. Both work closely with Unit DX and other support systems in the city to make sure that founders have access to this support.
Frederic Garzoni, Director and Co-founder at Imophoron, a spin-out from BrisSynBio which is developing a novel vaccine platform for use on emerging infectious diseases, said: "Working with the Unit DX team has been extremely helpful for Imophoron. I have been able to access workshops on intellectual property, grant writing, and the new GDPR regulations. The team have also helped raise investment and introduced me to key stakeholders in the local area, which has been very important as I moved to the UK from France to start the company."