View all news
Bristol start-up takes quantum leap in innovation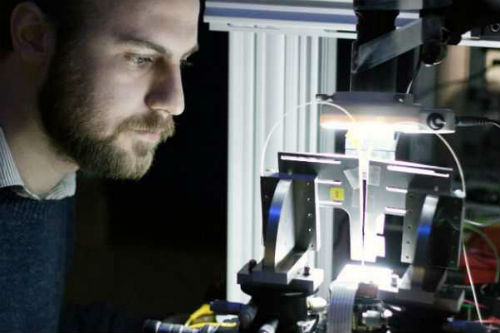 12 June 2018
A University of Bristol start-up business specialising in quantum encryption has been named the UK's Most Innovative Small Cyber Security Company of the Year.
KETS' Quantum Security specialises in developing a range of future-proof, cost-effective technologies for quantum-secured communications that have the power to improve the secure transmission of information such as banking details and medical records.
The firm was awarded its national accolade at Infosecurity Europe 2018 (Infosec), an annual information security event which this year attracted more than 400 exhibitors and 19,500 information security professionals to London's Olympia.
It followed a nationwide competition supported by the Department of Digital, Culture, Media and Sport, and sponsored by SNC-Lavalin Atkins.
Jake Kennard, Co-founder and Head of Technical Sales at KETS, delivered the winning two-minute business pitch to the panel of judges. He said: "Being recognised as the UK's most innovative small cyber security company among such strong competition is a real honour and testament to all the hard work that our team has put in to KETS."
By 2021, it is estimated that there will be 46 billion connected devices, and by 2020, it is thought that a quarter the global payments market (US$21 trillion) will have moved online. However, the increase in the world's digital capacity has been accompanied in recent years with a rise in cybercrime, making communications security an urgent concern for businesses around the world.
With a combined 40 years' sector experience, the KETS team has developed a hardware solution that exploits the sensitive nature of single particles of light to detect eavesdroppers. This in turn has shaped the development of ultra-secure encryption keys with an unlimited lifetime.
The firm's products use existing semiconductor fabrication as the basis of a miniaturised platform that is fast, scalable, efficient to manufacture and can be integrated with existing electronics.
Dr Philip Sibson is co-founder and CTO of KETS, and a Quantum Technology Enterprise Centre Fellow and Research Associate at Bristol University's Quantum Engineering Technology Labs. He added: "We envisage our products to have applications in a wide variety of sectors including defence, telecoms, and critical infrastructure; with end-users from finance, government, and data centres management benefiting from our enhanced security solutions."
Professor Nishan Canagarajah, Pro Vice-Chancellor of the University of Bristol, congr
atulated the team for "a tremendous achievement", adding: "

Quantum information and its translation into technologies

is a strategic research priority for the University and recognised as a Specialist Research Institute. The University has successfully created new businesses by taking ground-breaking science out of the lab to be used in real-world applications. KETS is a leading example of how well the system of innovation in Bristol is working. This award is another example of the excellent research and enterprise activities performed here."