View all news
Hello lad! Gromit and friends arrive in Bristol for charity trail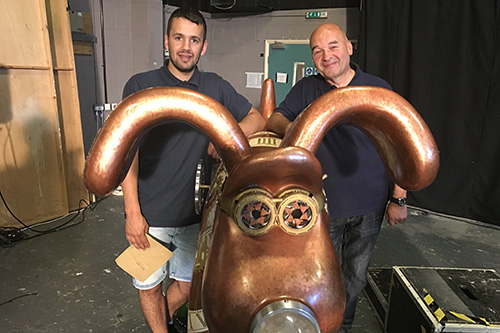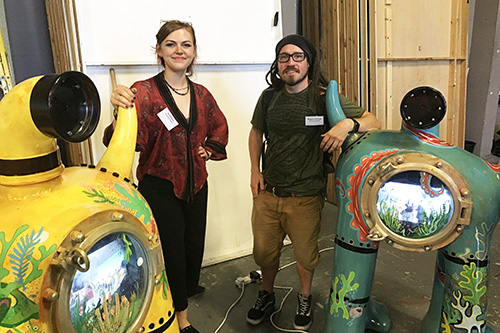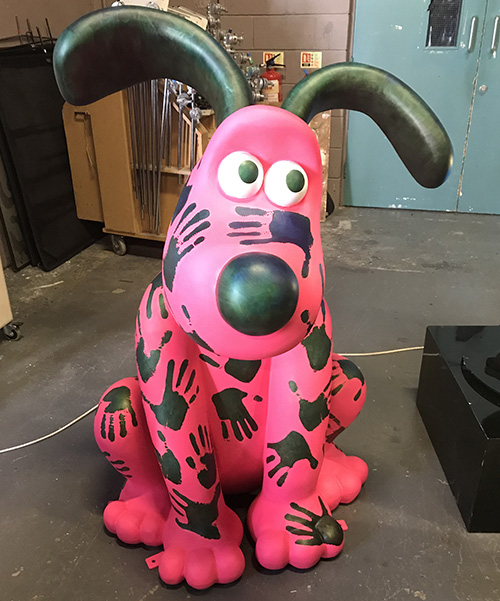 Press release issued: 28 June 2018
Bristol's favourite pooch and friends will arrive in Bristol over the next few days as Gromit Unleashed 2 fever sweeps across the city.
The public will be able to find him at three University of Bristol locations, while also marvelling at the ingenuity of staff and students who have created four of the 67 special sculptures.
This summer, Gromit is joined by Wallace and Feathers McGraw on the streets, buildings and parks of Bristol until 2 September as part of the trail organised by Wallace & Gromit's Grand Appeal, the Bristol Children's Hospital charity.
Royal Fort Garden will be part of a public art trail for the first time. It will be home to a hot pink Gromit, covered in handprints which change colour when touched.
PhD student Kacper Sokol came up with the idea for 'ThermoGromit' and worked with artist Timmy Wilmott on the design.
A classic 'Feathers McGraw' sculpture, designed by Nick Park, can be found outside the Wills Memorial Building, while the colourful bird-inspired 'Feathers Macaw' by artist Amy Timms will be stationed outside the Victoria Rooms.
A clock-inspired Gromit, designed by Engineering students Christine Braganza, Ella Allan and Octavia Clark and built by the Faculty's technician team to encourage curiosity, has six interactive parts and is a nod to the little-known historical fact that Bristol used to be 10 minutes behind London until 1844 when times needed to be aligned to avoid confusion over railway timetables.
He's been called 'A Grand Gromplication' - a pun on the term 'grand complication' which describes fancy and intricate watches - and can be found in Bristol Museum.
Two ocean-inspired Gromits are the first in the world to communicate with each other from their two locations. Visitors to the sculptures in We The Curious and M Shed will be able to see what's happening at the other venue thanks to WiFi technology.
'Oceans 1: Deep Blue' and 'Oceans 2: Yellow Sub' were designed and painted by staff and students* in the Communication Systems & Networks (CSN) Group at the University, who drew on their wireless technology expertise.
Dr Fai Tila, from the CSN Group, said: "It was great fun working with staff and students on the design and integration of the wireless technologies required to live stream video between a pair of Gromits. This project built on wireless video streaming technology developed by Denys Berkovskyy as part of his PhD.
"Bristol is well known for its ground breaking communications technologies, including 5G as well as its world leading creative industries. The connected Gromits combine these strengths perfectly and I can't wait to seeing the public's reaction when Gromit Unleashed 2 begins."
The University of Bristol is one of the 'trailblazers' playing a significant role in the trail, alongside Creditcall, Renishaw and Rolls-Royce.
The partnership with Wallace & Gromit's Grand Appeal has been coordinated by the Faculty of Engineering's Industrial Liaison Office (ILO), which helps students and researchers to work closely with industry and business.
Along with its four sculptures, students from the Computer Science Department have also helped to develop the Gromit Unleashed 2 app which will be downloaded by thousands of people throughout the summer.
Colin Dalton, Undergraduate Education Director in the Faculty of Engineering at the University of Bristol, said: "Creating such a special and innovative Gromit with the Grand Appeal has been a brilliant opportunity for our students, allowing them to develop their skills in a real-world context.
"We're really excited to be part of what promises to be a truly innovative trail, working alongside partners in the city to help raise vital funds for the Children's Hospital."
The trail is the first in the world to feature three licensed characters; interactive sculptures and contactless donation technology thanks to support from a number of Bristol's leading institutions, pioneering technology companies and international engineering firms.
The University of Bristol has supported The Grand Appeal since 1997 and tours it runs of the Wills Memorial Building have raised over £32,000.
It's also the proud owner of 'Bark at Ee' Gromit and 'Wish ewe were here' Shaun the Sheep statues.
Further information
*The project team for 'Oceans 1: Deep Blue' and 'Oceans 2: Yellow Sub' is Steve Bullock, Fai Tila and Ben Winstone, with support from students: Dario Quintero Dominguez, Zoe Andrews, Ben Wainwright, Gregg Nurick, and Denys Berkovskyy.
The Grand Appeal
The Grand Appeal supports Bristol Children's Hospital by funding pioneering, life-saving equipment and research, including ventilators, a cardiac hybrid theatre and an inter-operative MRI scanner, so that patients have access to the best possible healthcare and life-saving equipment. We provide free accommodation to families of critically ill patients from the Neonatal and Paediatric Intensive Care Units in our Cots for Tots House and Paul's House, as well as providing a free Family Support service to parents and siblings. We ensure the hospital is a vibrant and child friendly place to help distract young patients through our music therapy, art and play programmes and much more.
Bristol Children's Hospital covers the largest catchment area of any children's hospital in England, treating more than 100,000 children each year, and serves as the paediatric intensive care centre for the whole South West region. The hospital is an international, national and regional specialist centre of excellence for a range of services including neurosurgery, burns, epilepsy, cardiac, leukemia and bone marrow transplants.
About Aardman
Aardman, based in Bristol (UK) co-founded and run by Peter Lord and David Sproxton, is a world leader in animation. It produces feature films, series, advertising and digital entertainment for both the domestic and international market. Their multi-award winning productions are novel, entertaining, brilliantly characterised and full of charm that reflects the unique talent, energy and personal commitment of the very special people who make up the Aardman team. The studio's work is often imitated and yet the company continues to lead the field producing a rare brand of visually stunning and amusing independent and commercial productions.