View all news
Channel 5 show shines light on opportunities for mature students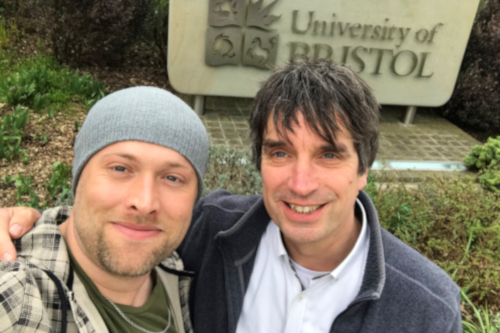 Press release issued: 13 June 2018
The University of Bristol featured on Channel 5 show 'Rich House, Poor House' as a dad-of-six finds out whether his dream of studying Physics can become a reality.
Antony Williams was reunited with Bristol alumnus James Caddy for the programme, which is a follow-up to last year's episode in which their two families – from opposite ends of the wealth spectrum - swap homes, budgets and lives for seven days.
The Williams family from Weston-super-Mare, who are in the lowest 10 per cent of earners in the country, moved into the Caddy's house in Clifton.
Viewers were left in tears after the original episode when Anthony used part of his £1,700 weekly budget to buy football boots for his son.
The two dads formed a strong bond during the show and have since kept in touch, with James keen to help Anthony, 29, pursue his passion for Physics.
They visited the University of Bristol for the follow-up show, exploring what support and options are available for mature students with Anna Burchfiel, Mature Student Undergraduate Recruitment Officer. Dr Chris Bell, Senior Lecturer in the School of Physics, showed them a hands-on experiement, while mature student Steven King, who is studying Pharmacology, gave an insight into life as a mature student.
Antony has since been inspired to start an Access to Higher Education course at Weston College and would be eligible for the Bristol Scholars scheme and an associated bursary should he apply to study for a degree at the University.
James, who graduated in 1987 and set-up his own software company, said: "When we met after the swap, Antony and I realised we had a lot in common despite such different lifestyles. We shared similar values and interests. The fact I'd studied Physics and he was fascinated with the subject was a real coincidence.
"I jumped at the chance when the show's producers suggested we visit the University of Bristol – my old uni – to explore what Antony's options are and take a walk down memory lane.
"I was lucky enough to not pay any tuition fees and really value how education has helped my career. Nowadays cost can be a real deterrent, especially when people have a family, but it was encouraging to hear about the financial support available, as well as access courses and general support for mature students.
"It was really inspirational for Antony to meet a fellow dad who had returned to university later in life and for him to know that getting a degree is a real possibility."
You can watch 'Rich House, Poor House' on the Channel 5 website.
Further information
If mature students would like to find out more about their options and the opportunities available, they can attend one of our upcoming events.