View all news
CRUK awards Bristol researcher £1.4 million to investigate cancer growth containment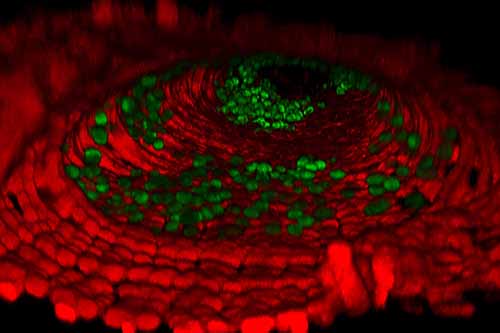 5 July 2018
University of Bristol researcher, Professor Eugenia Piddini from the School of Cellular and Molecular Medicine, has been awarded a Programme Foundation Award worth £1.4 million by Cancer Research UK (CRUK) to lead research into how the natural properties of normal non-cancer cells can be harnessed to contain cancer growth.
In an increasingly ageing society cancer has become one of the most common and deadly diseases, with a life-time risk of developing cancer exceeding 50% for individuals born after 1960. This is despite the substantial progress that biomedical research has made in diagnosing and treating this complex and multi-faceted disease. Understanding how cancers develop and identifying new anti-cancer strategies is a pressing biomedical and societal need.
It is becoming increasingly clear that the communication between cancer cells and surrounding normal cells plays a pivotal role in cancer growth and that better understanding the nature and impact of this bidirectional type of exchange is key to identify novel anti-cancer strategies.
Using the fruit fly, a very powerful genetic model organism to study cancer, Professor Piddini's group have shown that cancer cells compete with and kill neighbouring normal 'host' cells. This phenomenon is called "cancer-host cell competition". Using this information they have also been able to show that this process fuels cancer growth as it allows cancer cells to clear a space that they can expand into. The Piddini group have also revealed how it is possible to contain the growth of these cancers by protecting normal cells from cell competition and therefore from being killed by the cancer.
The CRUK award will fund Professor Piddini's research for the next 6 years to investigate further the impact that interfering with cell competition has on cancer growth.
Professor Piddini recently moved to the University of Bristol from the University of Cambridge and is also the recipient of a prestigious Wellcome Trust Senior Research Fellowship.
Commenting on the award and on her research aims, Professor Piddini said:
"It is a great honour to receive such a significant award from CRUK. Receiving this award is a great recognition of the importance of our work and its value in trying to understand how cancers grow. CRUK's support will give us a great impulse to advance this exciting field of cancer research.
"Together with collaborators in Yale Medical School (USA) and at the Sanger Institute in Cambridge (UK), we will develop novel strategies to assess directly the contribution of cell competition to the expansion of some types of pre-cancerous lesions.
"At the same time my group will aim to advance our knowledge of the molecular mechanisms that allow cancer cells and normal cells to compete. Our aim is to identify molecular interventions that by modulating cell competition help to contain cancer growth. If we are successful, this would be a very important first step to lead into the design of a new class of anti-cancer treatments that exploit and bolster the ability of normal cells surrounding the cancer to contain cancer growth. This is a complementary strategy to traditional anti-cancer therapies that focus instead on killing cancer cells directly."
Professor Anne Ridley FRS, Head of the School of Cellular and Molecular Medicine, comments that "Professor Piddini is working on an exciting new strategy to limit cancer growth, by allowing normal non-cancer cells surrounding the cancer to restrain its expansion. I am delighted that her research programme will be supported to CRUK for the next six years, and look forward to hearing about her team's results."