View all news
MP Thangam Debbonaire visits Bristol to meet scientists behind cutting edge cancer research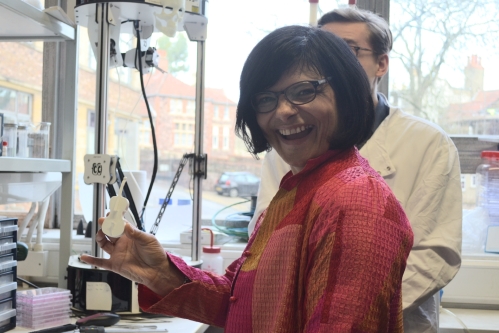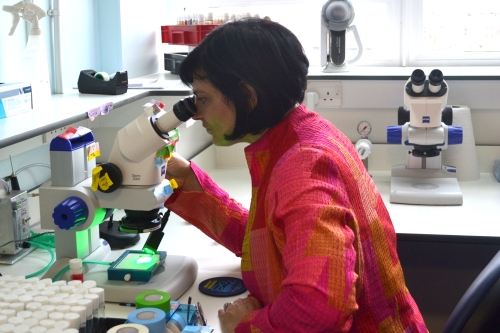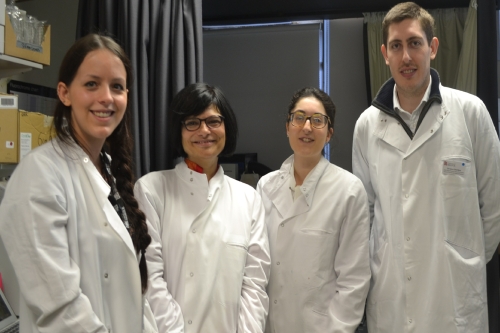 Press release issued: 2 February 2018
Ahead of World Cancer Day on Sunday, Bristol West MP, Thangam Debbonaire, visited the University of Bristol's School of Cellular and Molecular Medicine today, 2 February, to meet researchers and explore the laboratories where cutting edge cancer research takes place.
The University of Bristol has invested significantly in developing world-class facilities and attracting leading scientists in the field, making Bristol - and its School of Cellular and Molecular Medicine - an international centre for cancer research.
Thangam was diagnosed with breast cancer in 2015, just weeks after being elected to Parliament. Her experience has led to her becoming a passionate Breast Cancer Ambassador with a keen interest in cancer research. She met Wellcome Trust Research Training Fellow, Grace Edmunds, at the Big Bang Bristol community event in July last year and was fascinated to hear about her work at Bristol on blocking the stop signals which cancers use to evade the immune response.
Thangam, a University of Bristol graduate herself, was welcomed by the new Head of School, cancer biologist Professor Anne Ridley FRS and Grace Edmunds. The tour included:
After the tour she dropped in to a teaching lab to see an undergraduate practical class, where first year students were studying the hallmarks of different cancers.
Following the tour, Thangam Debbonaire MP, said:
"Today's visit to the University of Bristol was truly inspiring and I feel proud that so much vital research is happening in our city. As someone who has had a cancer diagnosis, it was humbling to meet so many brilliant researchers who are absolutely committed to furthering our knowledge and understanding of this disease, and pushing the parameters of cancer research."
University of Bristol Pro Vice-Chancellor for Health, Professor John Iredale, said:
"The University of Bristol is proud to have so many talented and dedicated scientists working on pioneering cancer research. It was an honour to host Thangam Debbonaire and to have the opportunity to showcase our work and the significant investments we have made which make Bristol a leading centre for cancer research."