View all news
What are libraries for?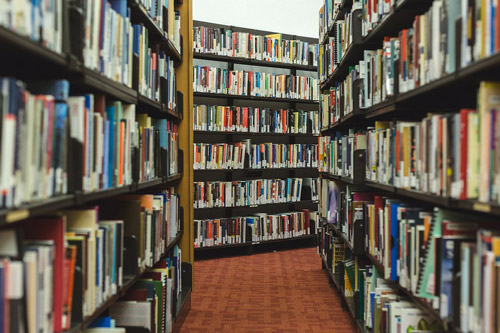 Press release issued: 20 February 2018
With plans recently announced for a new library at the University of Bristol, library users, researchers, librarians and creative writers from the University and across the city will discuss the role of libraries in the past, now and in the future at a debate this evening (Tuesday, February 20).
The free event, organised by the University's newly created Centre for Material Texts, will take place at the Great Hall in the Wills Memorial Building from 6pm, and will address the question 'What are libraries for?'
Dr Rhiannon Daniels, from the University's School of Modern Languages and Co-Director of the Centre, said: "With plans for a new university library underway, we thought this would be a timely moment to reflect on the needs of library users now and how our collective needs will develop in the future."
In anticipation of the debate, PhD student Marta Balzi and recent graduate Meghan Flynn asked library users in the university and beyond what libraries are for. The results were many and various and have been featured on the Centre's @booksatbristol Twitter account.
Dr Jennifer Batt, from the University's Department of English and Co-Director of the Centre, added: "While studying was an answer given by a number of respondents, others replied that libraries are valuable because they enable daydreaming, inspiration and socialising to take place.
"With libraries containing books, and so much more, still others suggested that libraries are places to learn what others have learned, to explore the world of knowledge and to promote freedom of thought."
During this evening's debate, the question, what libraries are for, will be addressed by speakers with different perspectives.
Philip Kent is Director of Libraries at the University of Bristol and has many years' experience in working with university libraries.
He will be joined by Suzanne Paul, who is Keeper of Manuscripts and University Archives at Cambridge University Library, and who has particular interests in medieval manuscripts.
The line-up will be completed by Dr Mimi Thebo, a Carnegie-long listed author of children's books who is passionate about the difference that public libraries can make to people's lives.
Free tickets for the event are available here.
Further information
The Centre for Material Texts brings together scholars from across the Faculty of Arts, as well as librarians and creative professionals, in the exploration of material texts from the ancient world to the digital age.
It embraces a broad understanding of the material text from scroll to codex to screen. Its research interests extend from the local to the global, encompassing the history of publishing and publishers, editing, manuscript and print cultures, reading history, reception, materiality, paratexts, book collecting and collections, miscellanies, and artists' books.
The Centre for Material Texts works closely with Special Collections at the University Library.