View all news
Bristol's 'Game of Drones' win annual Drone Dash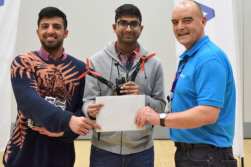 26 February 2018
A pair of students from the University of Bristol split a £500 cash prize for winning 'Drone Dash 2' this weekend (24/25 February), the second annual fly-off sponsored and supported through the Airbus Global University Partner Programme.
The challenge was a 'search and rescue' task, collecting objects from around a purpose-built flying arena. Students had a day in the brand-new HackSpace facility in the Faculty of Engineering's Merchant Venturers Building, using laser cutters and 3D printers to put together a solution to the problem, before a second day flying in Bristol SU's Anson Rooms.
The two-member winning team 'Game of Drones' developed an addition to their drone and used an innovative piloting approach to nudge objects across the arena. Other teams implemented novel gripper designs to pick objects up, and one group even invented a smartphone-controlled electromagnet to perform the task, bagging them the engineering prize and a fleet of Airbus A350 models donated by the company.
Winning team member, Electrical and Electronic Engineering student Muzzammil Mia, said "We tried out several designs, but in the end time was getting short and we went with a simple but effective approach. Winning the cash prize was the icing on the cake for a tough but rewarding weekend."
Prof Ian Lane, Senior Expert in Composite Analysis at Airbus, said "it was fantastic to see such excellent teamwork -- students working together and using their mechanical and digital engineering skills to achieve a real mission is exactly the spirit of early and modern aviation."
The student-led event was a collaboration between three student societies, the Drone Society, Build, and Aerosoc. Dr Steve Bullock, Lecturer in the Faculty of Engineering, praised the organising committee, saying "the contribution our students put in, above and beyond their studies, is invaluable. Running such a high-profile event is an excellent way to develop leadership skills, and adds so much to the wider student experience here at Bristol. Thank you to students, colleagues and partners who helped make Drone Dash 2 happen -- I'm already looking forward to next year's event!"