View all news
Update on the Fry Building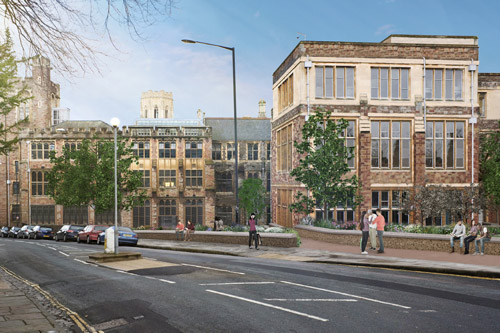 Press release issued: 1 February 2018
Work to refurbish the Fry Building, which was damaged by fire at the start of January, is continuing and our priority now is to ensure the refurbishment project progresses as quickly as possible.
The Grade II listed building is being transformed into a state-of-the-art new home for the School of Mathematics.
It was due to open for the start of the next academic year in September 2018. This will now be delayed, but we remain excited about the prospect of opening such a great new facility as soon as we possibly can.
We're currently working with the contractor (Balfour Beatty), insurers, loss adjusters and suppliers to ascertain what additional work now needs to be done and what the new timeline will be.
We are also identifying alternative teaching spaces elsewhere on campus to mitigate any knock-on effect caused by the delayed opening of the building.
Thankfully the damage was not as substantial as first thought. The fire largely affected the roof and top floor of the South block only, with further water damage on the lower floors of that block.
This section of the building has been made safe and work has now recommenced in those parts of the building which weren't affected. We are hopeful that the unaffected parts of the building can be handed over for University use in due course, although we will not be able to confirm dates until later in February.
You can read more about plans for the Fry Building on our website.