View all news
Winners announced for Bristol's Data Visualisation Challenge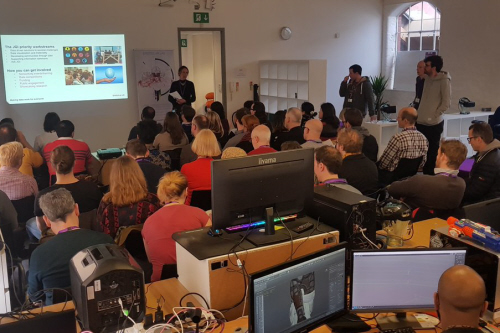 Press release issued: 14 February 2018
Two teams have won £8,000 funding each to take their data visualisation projects to the next level and work with leading creative companies in Bristol.
Researchers at the University of Bristol will work with the new Bristol Virtual Reality Lab to develop their 360, virtual reality prototypes and We The Curious who will provide their expertise in storytelling and public engagement.
Aimed at bringing complex data to a format that can be accessed in an immersive environment, the winning projects of the first Jean Golding Institute for Data Intensive Research Data Visualisation Challenge in VR/360 are:
Dr Jade Thai, Dr Jon Brooks and Dr Karen Luyt from the Clinical Research & Imaging Centre for their project "The secrets of better brain health" to address challenges in neuroscience and mental health. They will work with BDH Immersive who have worked on projects such as Blue Planet II (BBC) and Wonderful You VR (Oculus/Facebook) to create the first in a series of virtual reality visualisations using brain imaging data. The project will integrate the latest scientific discoveries from brain imaging with virtual reality to tell the story of how the brain develops and matures and how complex neural networks are formed.
Dr Oliver Davis, Dr Tom Gaunt, and Dr Gibran Hemani from the Medical Research Council's Integrative Epidemiology Unit and team, for their project 'Playable data for human health' to improve understanding of the causes of disease and the complexities of developing health policies. This is a collaboration with Free Ice Cream to create a simulation that will be used to visualise the input of hundred of players simultaneously. Participants will be able to make behavioural and social decisions for human health such as investing in drugs for reducing cholesterol, encouraging people to stay in education, or promoting a low cholesterol diet. The outcomes of these decisions will be mapped by a visualisation engine providing an immediate response to their decision making.
When completed, both prototypes will be unveiled at the We The Curious Data Dome in Bristol for the public to visit as part of the Jean Golding Institute Showcase and Data Week from 25 June.
Manager of the Jean Golding Institute, Patricia Holley, said:
"This has been a unique opportunity for researchers to put forward interesting and relevant datasets from projects, enhanced by using state of the art visualisation techniques, that in this instance could go on to provide developments in health and wellbeing.
"The Jean Golding Institute hopes that this challenge has been a catalyst to develop a diverse environment for collaboration between our researchers and Bristol's creative industry sector and to provide new opportunities to expand the impact of our research."
The challenge attracted nine research projects that were presented to 19 local companies at an ideas workshop event earlier this year.
Winners receive £8,000 funding to support development; space to work at the Bristol VR Lab and access to the We The Curious Data Dome.