View all news
Honorary degree accolade for Bristol-based IMDb founder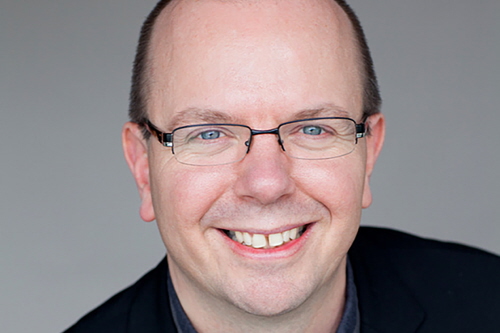 Press release issued: 9 February 2018
Col Needham, the man behind IMDb – the world's number one movie website – will be honoured by the University of Bristol for his achievements.
The Internet Movie Database (or IMDb) is one of the internet's big success stories, growing from being a hobby for film buff Col to being bought by Amazon and used by 250 million people every month.
His unprecedented success is being recognised by his hometown university, which will present him with an honorary Doctor of Letters degree in the Wills Memorial Building on Friday [9 February].
It was while working as a software engineer at Hewlett Packard in Bristol that Col started IMDb as his own personal resource, before collaborating with other likeminded film fans to develop the site.
When it was officially launched in 1990, at the very start of the Internet as we know it, users had to dial-up and download the database software onto their computers. It grew in popularity as the internet evolved, before Amazon saw the potential in 1998.
The database now contains over four million movies, TV and entertainment programmes and more than eight million cast and crew members.
We now use IMDb to find information about local movie showtimes, ticketing, trailers, critic and user reviews, personalized personalised recommendations, photo galleries, entertainment news, quotes, trivia, box-office data, editorial feature sections and a universal watchlist.
Professor Angela Piccini, Reader in Screen Media at the University of Bristol, will deliver a speech about Col during the degree ceremony. She said: "Col envisioned a future in which we could visualise the global filmmaking industry. Before Facebook and before MySpace and Friends Reunited, Col created the cinematic social network.
"He still wants to turn all of us into film fans. For him, IMDb is an extension of the old Reithian public service broadcasting mission to inform, educate and entertain.
"Col believes that IMDb democratises filmmaking, by bringing audience decision-making and knowledge together with that of the filmmakers. Col's vision is that the wisdom of the crowd will drive future filmmaking."
Graduating students will hear how Col's love of technology stretches back to childhood when he received and built his first computer for Christmas in 1979 at the age of 12. The build-it-yourself Science of Cambridge MK14 kit only had 128 bytes of memory which wouldn't be enough to send a tweet nowadays.
He began his database just two years later in 1981, by which time he had a computer with 48 kilobytes of memory and an audio cassette interface to write data to.
The rest is history and IMDb now has offices around the world, including one in Bristol where Col is based as the company's CEO.