View all news
Bristol named as UK's smartest city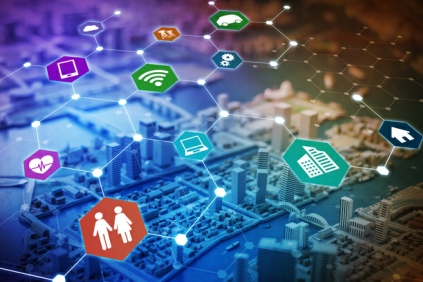 Press release issued: 23 October 2017
Bristol has overtaken London as the UK's leading 'smart city' according to the second UK Smart Cities Index, commissioned by Huawei UK and conducted by Navigant Consulting. The report is based on evaluations of 20 cities and their strategies, key projects and overall readiness in using digital technology to improve crucial civic services from transport infrastructure to healthcare.
Bristol and London were named as 'leaders', with the South West city taking the top spot. Next are 12 'contender' cities: Manchester, Birmingham, Leeds, Milton Keynes, Glasgow, Nottingham, Peterborough, Cambridge, Oxford, Aberdeen, Edinburgh and Newcastle.
Bristol's move up the rankings is a direct result of it taking significant strides to extend its innovation programmes and more closely integrate those initiatives into city strategy. The Bristol Is Open project, a joint venture between the University of Bristol and Bristol City Council, provides a large scale connectivity testbed and the new City Operations Centre ensures that services are effectively implemented. The city also leads in data access, energy innovation and community engagement.
The Smart City Operations Centre opened one week ago (16 October) following Phase 1 completion which brings together and integrates the council's Emergency Control Centre, Traffic Control Centre and Community Safety (CCTV) Control Rooms for the first time along with other citizen service providers. In addition, the centre also provides services such as telecare, alarm and security monitoring and lone worker support with almost 60,000 welfare and telecare calls received every month.
The new Operations Centre received support from Andrew Everitt, Head of Exercising at the Cabinet Office Emergency Planning College, who said: "The new operations centre in Bristol is world class and provides an enviable facility for diverse responder organisations to work together in managing all types of incidents and events, from response to recovery."
The report also singled out Bristol for praise in community engagement, including the Citizen Sensing strategy developed by Knowle West Media Centre. This is designed to allow people to build or use sensors to tackle issues that are important to them. An example of this is the use of sensors in the 'Damp Busters' pilot initiative to gather data about the problem of damp in homes.
The Huawei UK Smart Cities Index rankings were calculated by an in-depth analysis of ten criteria within the cities' strategy and execution, covering areas such as their vision, digital innovation, implementation record, environmental impact and community reach.
Sir Andrew Cahn, Huawei UK Board, said: "The successful cities of the future are going to be smart cities. It's clear from this report that cities across the UK have made considerable progress over the last year, developing and implementing strategies to improve the delivery of public services and the urban environment. The scale of progress throughout the country is represented by a doubling in the number of cities included in this year's ranking index compared to 2016. While Bristol and London are named as 'leaders', other cities have entered the index with exciting smart initiatives, such as Newcastle's, City Futures programme and Cambridge's, Smart Cambridge intelligent City Platform (iCP)."
Julie Snell, MD of Bristol Is Open, said: "Cities the world over must look to technology to address the way they manage their resources and infrastructure to deliver innovative services for citizens and businesses. Bristol has shown leadership in bringing together industry, government, academia and citizens to form a collaborative platform for the development of its Smart Cities program. Being recognised in the Huawei UK Smart Cities Index as the city that has made the most significant growth in its Smart City program is testament to the vision and support of Bristol City Council, the fantastic results for the University of Bristol research and development department and the very many other players in the City who all contribute to Bristol Smart City."
Councillor Craig Cheney, Deputy Mayor for Bristol said: "Bristol is well and truly forging ahead in developing smart city technologies which was strengthened by the opening of the Smart City Operations Centre a week ago (16 October). The state of the art centre integrates several of the council's key services and links into the city's high speed fibre network through Bristol Is Open. I'm very pleased that Bristol has been acknowledged this way and we will continue to work towards developing our smart city capabilities in order to improve services for our residents and visitors."
Professor Nishan Canagarajah, Pro Vice-Chancellor for Research at the University of Bristol, added: "We are delighted that Bristol has been named the UK's top Smart City. This award is testament to the scientific talent at the University and collaborative partners in the city who are pioneering innovative 'smart city' optics, networks and wireless technologies that will not only address the UK's future societal challenges but will ultimately make Bristol an even better place to live."
The important role of partners such as the Future Cities Catapult, Innovate UK, the Scottish Smart Cities initiative, academic institutions and the private sector is also emphasised as key to driving smart cities progress. Central government support is also beneficial to smart cities programmes, with the report urging central government to underwrite risk, address procurement issues and support collaboration.
Eric Woods, research director at Navigant Consulting, who led the study, said: "UK cities are demonstrating an impressive commitment to service and technology innovation. They are now embedding smart city ideas into city planning and operations. They are also preparing for the impact of the next wave of technologies, including 5G, autonomous vehicles, and machine learning. The growing contribution that local universities are making to these programmes further emphasises the importance of advanced technologies to the future of UK cities."
Further information
About Huawei
Huawei is a leading global information and communications technology (ICT) solutions provider. Our aim is to enrich life and improve efficiency through a better-connected world, acting as a responsible corporate citizen, innovative enabler for the information society, and collaborative contributor to the industry. Driven by customer-centric innovation and open partnerships, Huawei has established an end-to-end ICT solutions portfolio that gives customers competitive advantages in telecom and enterprise networks, devices, and cloud computing. Huawei's 180,000 employees worldwide are committed to creating maximum value for telecom operators, enterprises, and consumers. Our innovative ICT solutions, products, and services are used in more than 170 countries and regions, serving over one-third of the world's population. Founded in 1987, Huawei is a private company fully owned by its employees.