View all news
University of Bristol secures funding to grow small businesses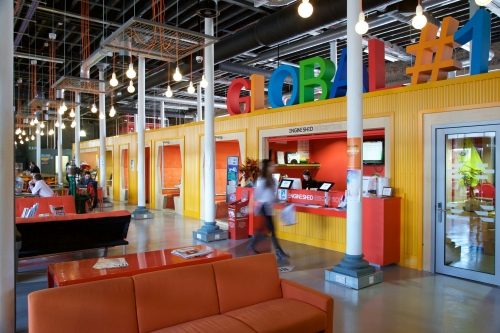 Press release issued: 13 October 2017
The University of Bristol is one of five universities in the south of England to receive a share of £5 million from the government for a project to tackle the challenge of scaling-up small to medium sized enterprises (SMEs) to innovate and grow.
Through the award-winning SETsquared partnership, comprised of the Universities of Bristol, Bath, Exeter, Southampton and Surrey, the project will facilitate new research collaborations with highly productive and fast-growing SMEs.
The funding is awarded from the Connecting Capability Fund (CCF) to support universities in working together and with external partners to commercialise research, helping to deliver the Government's Industrial Strategy.
The project, to be led by the University of Bath, will focus on four key technology sectors: advanced engineering & manufacturing; digital innovation; environmental, sustainable, marine/maritime; and health & wellbeing.
In total, the Higher Education Funding Council for England (HEFCE) has allocated £20 million to five university partnerships across England.
Jo Johnson, Universities and Science Minister, said: "The commercialisation of research and stronger working with business forms a key part of our Industrial Strategy, and through the Connecting Capability Fund we are strengthening collaborations between universities and with businesses to enable more ideas to become innovative solutions, boosting the UK economy.
"By building on our reputation as a pioneering nation, and investing an additional £4.7 billion for research and development, we are making sure that the UK remains one of the best places in the world to innovate, do business and create jobs."
The Bristol SETsquared Centre, based in Engine Shed and home to around 85 innovative ventures, provides guidance on business growth and strong links to university expertise.
Professor Nishan Canagarajah, Pro Vice-Chancellor for Research at the University of Bristol, said: "This funding award is a most welcome boost to the fantastic work taking place across the SETsquared partnership. This extra investment will enable us to share university knowledge, skills and technology more widely, benefiting more start-up businesses, our academics and the wider community.
"Here in Bristol, the SETsquared Centre and Engine Shed contribute to a vibrant entrepreneurial ecosystem and have played a major part in powering economic growth in Bristol. Alongside plans for our new campus at the heart of the Enterprise Zone, we hope to further boost the city's reputation as a world-leader in the digital and tech sectors."