View all news
Santander renews agreement with the University of Bristol as it celebrates 10 years of partnership and £1 million of support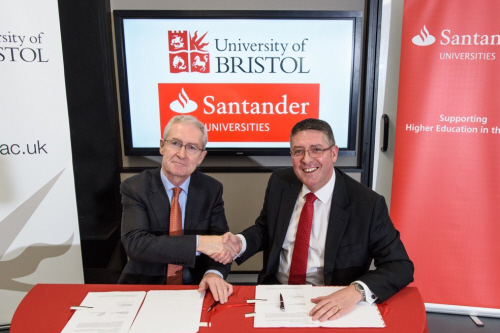 Press release issued: 24 October 2017
The University of Bristol has signed a new three-year partnership agreement with Santander Universities which will build on a decade of partnership working and philanthropic support.
Over the course of ten years, Bristol and Santander have been working together to support mobility, scholarships, internships and enterprise at the University.
The relationship began in 2008 when the University received funding to support scholarships for postgraduate students from Central and South America, Portugal and Spain. This philanthropic support has continued to grow with Santander Universities donating over £1 million to support a diverse range of initiatives that have enriched the lives of Bristol students, and encouraged them as they work to fulfil their potential.
This week the University and Santander signed a new agreement that will see the close partnership continue for a further three years with support for undergraduate mobility, scholarships, internships, the 'New Enterprise Competition' and the Students' Union awards.
Since 2008 Santander's philanthropic support has had a tremendous impact including:
Offering 663 undergraduate year-abroad travel awards
Providing 222 scholarships to Bristol students
Supporting 111 internships at 71 companies
Directly supporting 44 new enterprises through our 'New Enterprise Competition'
Professor Hugh Brady, Vice-Chancellor and President at the University of Bristol, said: "We are delighted that Santander's support of the University will continue. Our ten-year anniversary provides a great opportunity to look back on what we have achieved together, celebrate our successes, and reflect upon the ways in which we can continue to provide the kind of university education that sets our graduates apart. It also offers us a fitting opportunity to say thank you to Santander Universities for a decade of generosity."
Matt Hutnell, Managing Director of Santander Universities, added: "Santander is committed to supporting higher education as well as local communities across the UK. Our partnership is a great example of how two very different institutions can work together and run joint programmes that help both our students and support our local community. We are delighted to extend our collaboration agreement with the University of Bristol and very much look forward to this relationship developing further in the coming years."
As part of the 10th anniversary celebrations the University also took the opportunity to induct Matt Hutnell and Santander Universities into the Dorothy Hodgkin Circle of Discovery.
Stephen O'Connor, Director of Development and Alumni Relations at the University of Bristol, said: "This is one of our newly launched Giving Circles which formally recognise our donors and honour their generosity.
"It is very fitting that Matt and Santander Universities will be included in the Dorothy Hodgkin Circle because of the immense contribution they have made to our students in enriching their studies and time at Bristol."