View all news
Think Big: University welcomes future leaders to inaugural International Scholars Reception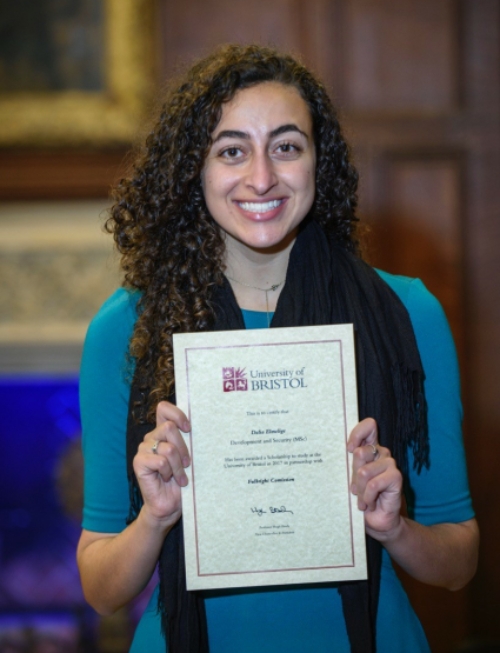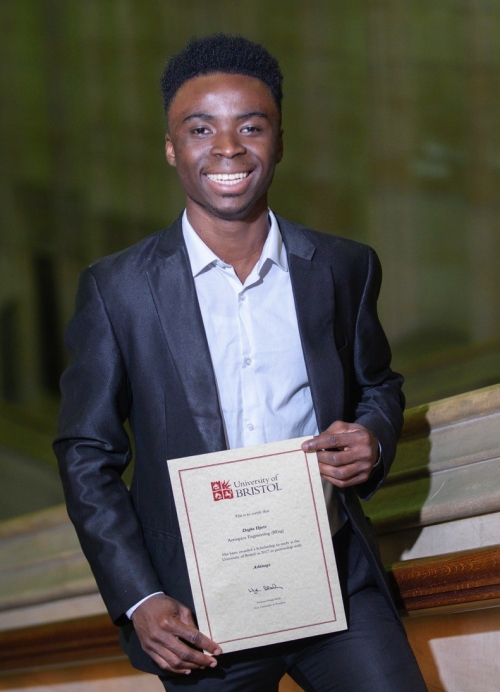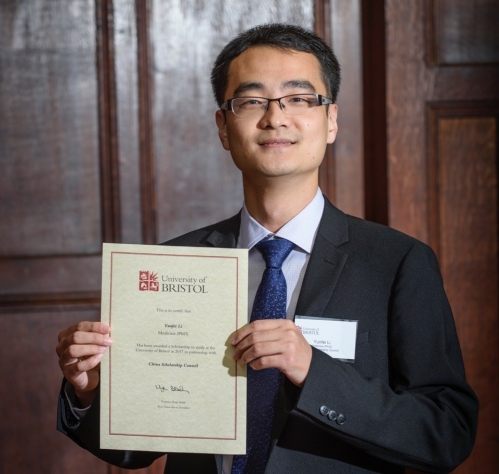 Press release issued: 18 October 2017
Over 100 scholars, representing 36 countries, attended the University of Bristol's inaugural International Scholars Reception at the Wills Memorial Building this month.
Vice-Chancellor & President, Professor Hugh Brady, and the Right Honourable Lord Mayor of Bristol, Councillor Lesley Alexander, officially welcomed the exceptional scholars to the University and the City of Bristol, acknowledging their already significant achievement in being there.
The University of Bristol partners with over 30 scholarship and sponsorship organisations worldwide. Representatives and scholars from numerous organisations attended the reception, including the Fulbright Commission, Chevening, Ashinaga, the China Scholarship Council, the Commonwealth Scholarship Commission and the Karta Initiative.
Students from places as far afield as Uzbekistan, China and the Ivory Coast, shared the stories and motivations that led them to pursue subjects as diverse as public policy, robotics and aeronautical engineering.
Gathering under the gaze of portraits of previous Chancellors, including Sir Winston Churchill and Nobel-prize winning scientist, Dorothy Hodgkin, all were united by a sense that a University of Bristol education marks the start of their journey towards realising their visions for a better world.
University of Bristol Vice-Chancellor & President, Professor Hugh Brady, said:
"Take a moment this evening to appreciate the opportunity that lies ahead of you, and get to know each other's cultures.
"Think big. You are the leaders of the future. Think about the world you are going to live in. You have the opportunity to shape it."
Dalia Elmelige – Fulbright Scholar
Bristol's position as a City of Sanctuary for refugees and its thriving non-profit sphere were a big draw for Fulbright Scholar, Dalia Elmelige, when she was looking for somewhere to undertake her Masters in International Development & Security.
"I was drawn to study at Bristol because I'm really interested in Development and Security, and the University of Bristol is one of few institutions which offer a combination of the two.
"I had visited Bristol once before to stay with a friend so I knew it was a great city with an excellent University," said Dalia.
Dalia is passionate about exploring issues of identity and integration and how by simply meeting people's most basic human rights and needs we can help prevent radicalisation.
Her interest stems from previous research she has conducted into the factors which make people vulnerable to groups such as ISIS, and her first-hand experience of working with refugee communities in Copenhagen.
As a first generation American with Egyptian heritage, she identifies first and foremost as Egyptian. However, having grown up in Florida she is no stranger to issues of identity and integration herself and it is partly this experience which drives her.
"I hope one day to have the opportunity to work for the United Nations and ultimately I would like to be the Director or Founder of my own organisation, so I can help shape a world in which the human rights of every single citizen are respected and upheld," she said.
With her passion, drive and a prestigious Fulbright Scholarship behind her, there's every reason to believe she will succeed.
Dogba Djaze, Ivory Coast – Ashinaga
Dogba Djaze from the Ivory Coast has a vision to completely transform the aeronautical industry in Africa. It is this ambition which drove his decision to study Aerospace Engineering here at Bristol.
Djaze's personal circumstances and exceptional educational performance lead to him being awarded a scholarship through the Ashinaga African Initiative (AAI). The AAI project aims to alleviate poverty in Sub-Saharan Africa by supporting the higher education of young orphaned students who have the desire to make a difference.
Djaze is now embarking on his third year as a University of Bristol student and loves the city he currently calls home.
"Bristol is an excellent city, very friendly, especially if you are an international student. The student life here is great!"
Last year, he and classmates built an aeroplane wing and this year they will be developing this further. However, Djaze is also interested in revolutionising the way flight routes work across Africa. Whatever flight path he chooses, there is no doubt he has the drive, skills and knowledge to make it a success.
Yunfei Li – Chinese Scholarship Council
Yunfei Li completed his Masters in Molecular Neuroscience at Bristol in 2011. He always hoped he would be able to return to the University and city he had grown so fond of.
After five years working as a surgeon in his hometown of Henan in China, he was given the opportunity to come back to Bristol thanks to the backing of the Chinese Scholarship Council, and this year he embarked on his PhD in medicine.
"I really enjoyed my first time at Bristol so I am very happy to be here again. I previously made many friends here, with both my classmates and supervisors. Bristol was my first choice for my PhD - it's really an excellent university," said Yunfei.
When he returns to China after his PhD, Yunfei will specialise in treating osteoarthritis. But for now he is enjoying all that Bristol has to offer:
"Bristol is a very beautiful city. It has so much going on, it easily competes with much bigger cities, and I find it a very friendly and interesting place to live."