View all news
How to ensure volunteers fill the holiday hunger gap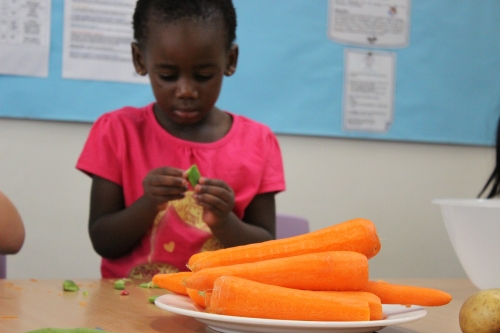 Press release issued: 23 October 2017
With up to 3.2 million children facing the prospect of not having enough food to eat during half term, new research has highlighted the importance of volunteers in filling the 'holiday hunger' gap.
Stephanie Denning, a researcher at the University of Bristol, joined forces with the charity MakeLunch to understand how Christian church groups are responding to the growing problem, and how best to ensure volunteers remain engaged.
Recent figures show that 1.2 million UK children receive free school meals which are means tested, with a further two million children who are not eligible for free school meals but whose families are still experiencing poverty.
Studies have found that children who did not eat enough food, or who did not eat sufficiently nutritionally balanced food, during the school summer holidays have poorer educational attainment when they return to school than their peers who had enough to eat [1].
MakeLunch is a network of churches and community groups running Lunch Kitchens to fill the holiday hunger gap by providing the equivalent of a free school meal in the school holidays. It has cooked and served over 65,000 meals in more than 100 locations across England, Scotland and Wales since it was established in July 2011.
Stephanie Denning, an ESRC-funded PhD student in the University of Bristol's School of Geographical Sciences, conducted the research over a three-year period, analysing the experiences of the people who volunteered with a MakeLunch project that she established. Stephanie has since handed over running of the project which continues to run successfully.
The research contributes to understanding that faith groups and volunteers are playing a crucial role in responding to food poverty by running food banks and children's holiday groups, through to collecting evidence and campaigning for change.
People's motivations to volunteer ranged from biblical teaching on responding to hunger, through to anger at political reform and wanting to do something active and meaningful in response.
Stephanie said: "The voluntary sector has become an increasingly important part of welfare provision in UK society, and so there's never been a more crucial time to try and understand it.
"A key motivation for volunteers was obviously to respond to children's holiday hunger, and volunteers needed to feel this was being met, but there was also a hope it would be an enjoyable and rewarding experience.
"As more and more groups depend upon volunteers to provide services for society we need greater understanding of how volunteering functions; it is not just the traditional client or recipient that can benefit. To continue giving their time, the volunteer must also feel the benefit too."
Advice to charities and voluntary groups is to give as much attention to volunteers as to those a project is serving; a sense of enjoyment, satisfaction and feeling appreciated are important for a person to want to continue volunteering; maintaining a personal relationship with volunteers is as important as volunteer recruitment; it is vital that volunteers feel appreciated and valued, otherwise it is likely that they will stop volunteering or seek a different opportunity; and understanding volunteers' motivations, expectations and volunteering experiences will help voluntary groups to develop positive relationships with volunteers and gain their longer term support.
Rachel Warwick, Director of MakeLunch, said: "At MakeLunch we're committed to equipping and mobilising churches to serve families in their own communities. We're dependent on volunteers to meet this need and Stephanie's research has been invaluable both as we've developed this centrally but also in training our team leaders at our national conference."
Further information
A policy briefing about Stephanie's research is available to read on the South West Doctoral Training Partnership website.
About food poverty
One in 50 (two per cent) British adults say they used a food bank during 2016, according to research commissioned by Church Urban Fund. Five per cent of adults surveyed reported that in the past year they had gone without meals as they were unable to afford food, and 13 per cent said they had experienced anxiety or worry about being able to afford enough food for themselves and their family during 2016. Source: Church Urban Fund.