View all news
Harp at ee! Now the Clifton Suspension Bridge can play its own tune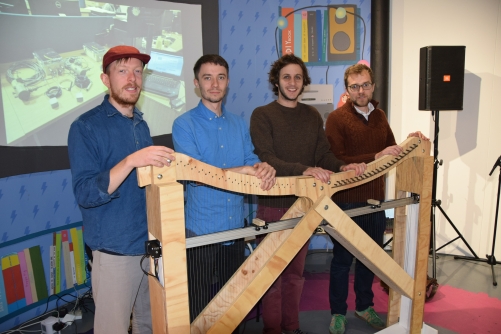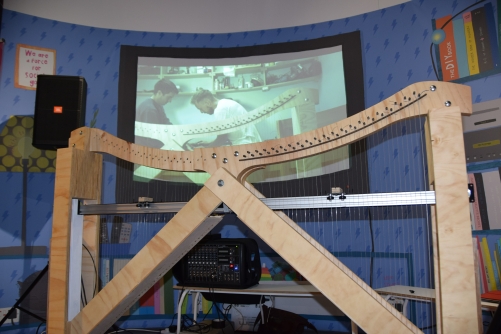 Press release issued: 20 October 2017
One of the UK's most famous bridges has been turned into a musical instrument, capable of playing music composed from its own structural data.
A specially-made double-strung harp will give a unique insight into how the Clifton Suspension Bridge moves and the impact of vehicles, pedestrians and the weather.
The project, developed by the Jean Golding Institute at the University of Bristol, sees the harp being played with two robotic arms, each strumming the strings on different sides to represent data collected on the north and south sides of the bridge.
The 153-year-old structure took on this new guise for Digital Bristol Week, with a free performance at the Welcome Hub on Bristol's Waterfront.
Six streams of data were collected from sensors installed on the bridge for a month, allowing engineering academics to understand how it moves, with any changes in the movement profile indicating possible aging or fatigue.
Software allows the data to be displayed to structural engineers or bridge management personnel in real-time, anywhere in the world.
Bristol-based musicians and sound artists, Yas Clarke and Lorenzo Prati, then created an installation to musically represent this structural data.
The harp was designed and built by Bristol-based luthier and guitar maker, Sean Clark. It has 82 strings and is tuned in relation to the bridge's natural frequency of 12.9Hz.
Sam Gunner, an Engineering Mathematics PhD student who has led the project, said: "To see our research represented in this way is really remarkable. The Clifton Suspension Bridge is a much-loved sight and now people can both see and hear it in a new light.
"Aside from the harp offering a visual and audio experience, it embodies important research which allows us to better understand how the bridge moves and the impact of vehicles, pedestrians and the weather."
While six sensors were needed to monitor the Clifton Suspension Bridge, the technology can be scaled-up to measure vibrations and displacements on far larger bridges.
The data is being used by engineers at the University to improve structural models of the bridge and to design a system to classify vehicle traffic.
Now proven, there are plans to use the dashboard to monitor the Clifton Suspension Bridge for a second time as well as other bridges in the future.
The data-gathering and dashboard project was funded by the University's EPSRC Impact Acceleration Account.
The harp project was developed by the Jean Golding Institute at the University of Bristol, which supports interdisciplinary research in data science. The Institute is focused on investigating the physical manifestation of information and exploring innovative ways to represent data that create an impactful response.