View all news
The fortunes and misfortunes of Miss Fanny Fust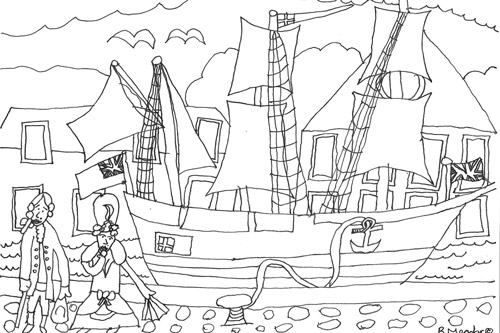 Press release issued: 20 October 2017
Historians and English academics from the University of Bristol have been working with Openstorytellers, a Frome-based charity that supports people with learning difficulties, to research and recreate the story of one of Bristol's lesser known historical figures.
Their work, which includes songs and performance, will be previewed for the first time on Tuesday, October 24 at the University of Bristol's Brigstow Institute's annual showcase which takes place at The Station in Silver Street, Bristol (10am-6pm). Entry is free and everyone is welcome to attend.
Fanny Fust was born in Bristol in 1764. After her wealthy father died she stood to inherit a vast fortune.
Upon leaving the army, fortune hunter Henry Bowerman heard about Miss Fust and her money and decided to arrange an elaborate kidnapping plot to whisk her away, luring her into several Bristol pubs (which will be recreated at the showcase event) with the promise of strawberries and cream and then onto France to marry her and claim the cash as his own.
On arrival in France, Henry bribed a corrupt abbot to marry them. Thankfully, Fanny's mother travelled to France and managed to bring her daughter back to England where the marriage was annulled.
Fanny then lived out the rest of her life in Gloucestershire where she died at the age of 69.
Professor Josie McLellan from the University of Bristol's History Department has been leading the project. She said: "The story of Fanny Fust sounds like it could be straight out of the pages of a penny dreadful but it was completely true.
"But what makes this story even more shocking is that Fanny had severe learning difficulties, something Bowerman was aware of and took full advantage of.
"Her story, therefore raises important questions around consent and capacity, an issue which is still relevant to people with learning disabilities today."
In order to get a feel for what life was like for Fanny, Openstorytellers, working with the Bristol academics, have investigated all aspects of 18th century life, including the fashion, the food, the leisure pursuits, architecture and schooling.
Nicola Grove from Openstorytellers said: "The group want to give Fanny a voice and plan to tell her story to a wide audience.
"Our show and talk will inform, make people think and entertain the audiences.
"Working with a steering group of professionals, participants will gain a deeper insight into this previously under-researched part of their history, as well as learning valuable new communication skills to use to bring Fanny's thought-provoking story to life."
The story of Fanny Fust is just one of the exciting projects funded by the University of Bristol's Brigstow Institute which brings researchers from different disciplines together with a range of partners across the city and beyond to experiment in new ways of living and being.
Visitors to the showcase will get a flavour of the experimental projects the Institute is leading on. All the projects draw on a wide range of different knowledge to ask, and seek to answer, the core question of what it means to be human in the 21st century.