View all news
Downing Street recognition for Parkinson's researcher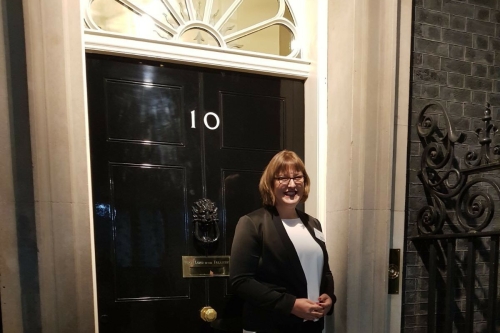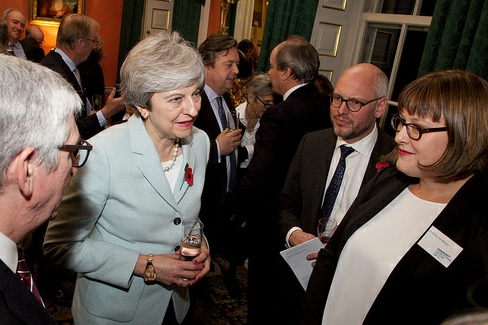 Press release issued: 31 October 2017
Dr Emily Henderson, a University of Bristol Honorary Consultant Senior Lecturer, and Consultant at the Royal United Hospitals in Bath, met the Prime Minister Theresa May at a Downing Street reception yesterday [30 October] in recognition of her research into Parkinson's, and to mark the 200-year anniversary since James Parkinson first described the condition.
Parkinson's affects 127,000 people in the UK and approximately seven million worldwide. Sixty per cent of people with Parkinson's will fall at least once a year, with over a third experiencing falls repeatedly, resulting in fractures, broken bones and hospital admissions.
Research by Dr Henderson and her team, published in The Lancet Neurology last year, found that a commonly prescribed dementia drug could hold the key to helping prevent debilitating falls for people with Parkinson's. This was one of the University's top 6 discoveries in 2016.
The team studied 130 people with Parkinson's who had fallen in the past year. Half the group were given rivastigmine capsules and the other half a placebo for an eight-month period.
The findings showed people with Parkinson's who were given the oral drug rivastigmine were 45 per cent less likely to fall and were considerably steadier when walking, compared to those on the placebo.
Dr Emily Henderson, who works in Population Health Sciences at the Bristol Medical School, said: "Meeting the Prime Minister Theresa May and to have our work recognised this way is an enormous privilege and honour. Ultimately, our long-term aim is to find better treatments and improve the quality of life for people living with Parkinson's."
Further information
Papers:
'Rivastigmine for gait stability in patients with Parkinson's disease (ReSPonD): a randomised, double-blind, placebo-controlled, phase 2 trial' by Henderson E J et al in Lancet Neurology published January 2016
'Recurrent Falls in Parkinson 's disease: A Systematic Review' Allen N E et al. in Parkinson's Disease published 2013
About Parkinson's UK
Every hour, someone in the UK is told they have Parkinson's.
It affects 127,000 people in the UK - which is around one in 500 of the population.
Parkinson's is a degenerative neurological condition, for which there currently is no cure. The main symptoms of the condition are tremor, slowness of movement and rigidity.
Parkinson's UK is the UK's leading charity supporting those with the condition. Its mission is to find a cure and improve life for everyone affected by Parkinson's through cutting edge research, information, support and campaigning.
For advice, information and support, visit www.parkinsons.org.uk or call our free, confidential helpline on 0808 800 0303.