View all news
Centralised care needs to be improved to ensure children with cleft lip and palate have best outcomes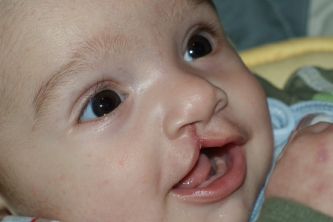 Press release issued: 30 October 2017
Around 1,000 children are born with cleft lip and/or palate in the UK each year, with many children requiring long-term multi-disciplinary care. A University of Bristol study, which assessed whether the centralisation of cleft lip and palate care services improved child outcomes, 15 years after centralisation took place, is published. The study found centralisation has improved patient outcomes but highlights more work is needed in some areas.
Twenty-years ago, children born with cleft lip and/or palate were treated in 57 centres in the UK. A Clinical Standards Advisory Group (CSAG) survey conducted in the mid-1990s of five-year-olds showed outcomes across a range of domains, including facial growth and speech, were poor. This led to services across the UK being centralised. Since then, care for children with cleft lip and/or palate is provided by multi-disciplinary teams working in 11 managed clinical networks.
The NIHR Programme Grant for Applied Research-funded study, known as Cleft Care UK, carried out a repeat nationwide cross-sectional survey of five-year-olds 15-years later to evaluate the impact of this centralised, audited multi-disciplinary care model. The researchers collected comprehensive data on care and outcomes from 268 children with unilateral cleft lip and palate.
Key findings from the study include:
Facial growth, appearance and speech have improved since the mid-1990s. For example, the proportion of children with good or excellent dento-alveolar arch relationships, a measure of facial growth, increased from 30 per cent to 53 per cent.
Oral health and hearing have not improved. For example, forty-five per cent of children were free of dental decay in the original survey compared to 48 per cent in the current survey.
A proportion of children still have poor results. Seventeen per cent of children still had unintelligible or just-intelligible speech.
Between centres there was substantial variation in practice - for oral health prevention measures, hearing and speech treatment - and for some outcomes, such as speech intelligibility where the centre explained 13 per cent of the observed variation in outcome.
Good hearing and provision of speech intervention predicted good speech suggesting that child outcomes could be improved with better service. Use of preventative oral health measures such as fluoride tablets and varnish were low and associated with higher risk of decay. This suggested they were being used to treat rather than prevent, disease.
Andy Ness, Professor of Epidemiology in the School of Oral & Dental Sciences, said: "Children with cleft lip and palate in the UK are now treated by a centralised inter-disciplinary service that has resulted in improved outcomes. But there is still more to do. There has been no improvement in some outcomes. And even in outcomes that have improved up to a fifth of children still do not have good outcomes.
"Our study described centre-level differences in treatment and outcome and individual predictors of outcome. Our findings suggest that while centralisation has been a success that further improvements are needed to ensure that children with cleft lip and palate have the best outcomes possible."
Papers:
'The Cleft Care UK study. Part 2' by A. R. Ness, J. R. Sandy et al. in Orthodontics and Craniofacial Research
Supplement: Orthodontics and Craniofacial Research 2015; 18 (Supplement S2):1-62
Further information
Policy briefing:
Policy Bristol – Policy Briefing 44: July 2017
This describes the study, key findings and outlines five policy implications which will be important if the care for these children is to be maintained and improved.