View all news
Fruit for thought: Student cider making and apples at the core of the community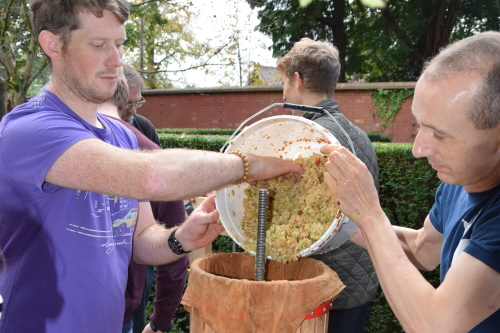 Press release issued: 24 October 2017
Students at the University of Bristol have swapped cider drinking for cider making, in traditional Westcountry style.
Using original tools and techniques, students and staff at the Wills Hall residence enjoyed a slice of the University's abundant apple crop which has roots dating back some 400 years.
The students took home a well-deserved bottle of freshly pressed juice and will later have the opportunity to sample the University's very own heritage apple cider.
There's a rich history of apple growing at the University with several historic orchards in the grounds of Goldney Hall in Clifton.
One of the orchards, originally planted by Thomas Goldney in the 1700s, still produces the 'Golden Pippin' and 'Nonpareil' varieties.
A second orchard contains trees that were originally part of the National Fruit and Cider Institute in Long Ashton, which was created in 1903 to study and improve the Westcountry's cider industry. The site then became the Long Ashton Research Station (LARS), where Ribena was invented by an academic from the University.
In addition to giving students a traditional cider making experience, this year's bumper harvest will benefit people across the city as the University is donating the apples to good causes.
Fruit is being donated to the Wild Goose Café, a crisis centre which makes meals for those who are homeless or in poverty in East Bristol.
And University staff have also joint forces with Talbot Road Allotments to donate both apples and produce to the Matthew Tree Project, which provides nourishing fresh produce to those in need. To-date, the University and allotments have provided the equivalent of 1,600 meals to help support vulnerable local people.
Simone Jacobs, University of Bristol Horticultural Supervisor said: "The University's heritage apples are a part of its history and it is fantastic that they continue to be enjoyed and of benefit to both the University and city communities".
Further information
University Heritage Orchard
The current Heritage Orchard was planted in 1991-2 where it was believed a Victorian orchard would have existed in Thomas Goldney's time
The orchard produces pears and apples for both cooking and eating as well as two of Thomas Goldney's original plantings which are still grown today
Thomas Goldney was known to have planted 21 varieties of apples at Goldney, five of these were obtained as grafting material from the National Collection of apples held at RHS Wisely Garden
Two of these are the 'Golden Pippin' and 'Nonpareil' varieties which still produce fruit today

Golden Pippin is one of the oldest English apples available, known to exist in the early 17th century and probably even older. The fruits are quite small by modern standards, with a rather attractive light green/yellow skin, speckled with russet. Golden Pippin has a rich fruity flavour with a hint of lemon, and firm rather than crisp flesh. Like many old varieties, Golden Pippin is prized both for eating fresh and for cooking; although smaller than most cooking apples, it keeps well. The juicy strong flavoured flesh also lends itself to juicing and cider blends
Nonpareil is one of the oldest of all apple varieties. The Victorian pomologist Robert Hogg believed it came from France to England in the 16th century, and noted that its aromatic qualities were apparently better appreciated in England than in the land of its birth. Hogg noted that Nonpareil grew best in the south of England (closest to France), and the flavour was less successful when grown in the north of England. Nonpareil belongs to a small group of apples which have the flavour of pear-drops. This flavour component is fairly unusual, but is also found in one of Nonpareil's probable descendants, Ashmead's Kernel. Visually, Nonpareil's dull russet colouring is not that attractive - the appeal of this apple is its unique strong pear-drop flavour
Long Ashton Centenary Orchard
Long Ashton Research Station (LARS) was an agricultural and horticultural government research centre in the village of Long Ashton near Bristol
LARS began in 1893 by an individual cider producer on his own orchard. This led to the formation of the National Fruit and Cider Institute in 1903 who took over fields south of the main road in Long Ashton. It was created to study and improve the West Country cider industry, expanded into fruit research (particularly apples, pears, plums, strawberries and blackcurrants), and was redirected in the 1980s to work on arable crops and aspects of botany
In 1912 the Institute became the University of Bristol's Department of Agricultural and Horticultural Research and its name was changed to Long Ashton Research Station
Long Ashton Research Station closed in 2003 at which point a number of the cider were planted at Goldney in the Long Ashton Centenary Orchard and still grow there today