View all news
Bristol Vision Institute team wins Video Compression Grand Challenge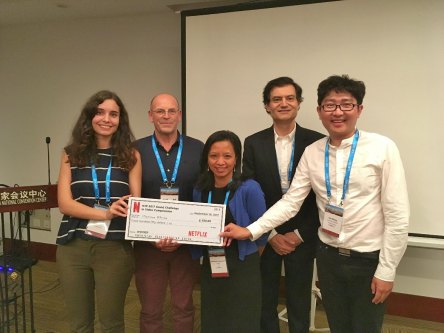 20 October 2017
A research team from the Bristol Vision Institute (BVI) has been awarded a key technology prize for its work on video compression.
Professor David Bull, Dr Fan Zhang and PhD student Mariana Afonso developed the cutting-edge video compression technology ViSTRA to target the challenge of delivering high-quality video content whilst minimising bit consumption rate, allowing high-speed transfer and consumption of video files.
The result of several years' work, the patented ViSTRA technology is based on perceptually optimised spatio-temporal resampling within the encoder. This is combined with a content-adaptive neural network-based method of reconstructing the output video, which dramatically reduces bit rate and increases visual quality. The codec has attracted considerable attention from industry; the team is currently preparing a contribution to the next generation of MPEG video coding standards, 'Beyond HEVC'.
The team were awarded the prize at the ICIP Conference held in Beijing, China in September, with PhD student Mariana Afonso receiving the prize for Video Coding based on Spatial Resolution Adaptation from Anne Aaron and Ioannis Katsavounides from Netflix.
Professor David Bull, Director of BVI said: "ViSTRA is the culmination of many years work in perceptually optimised video coding and dynamic resampling and the IEEE prize is a clear recognition of the strength of Bristol's compression research - spanning engineering, computer science and psychology".
The ViSTRA team, Mariana Afonso (left), David Bull (second left) and Fan Zhang (right) with Anne Aaron and Ioannis Katsavounides from Netflix who awarded the student prize to Mariana Afonso at the IEEE Video Compression Grand Challenge (below)
Further information
About Bristol Vision Institute
The University of Bristol is a world-leader in vision research, spanning human and animal vision, artificial vision systems, visual information processing and the creative arts. Bristol Vision Institute (BVI) was formed in 2008 on the basis of strength across disciplines, bringing together 170 associates from engineering, computer science, biological sciences, psychology, ophthalmology, anatomy, history of art, film & television and medicine. BVI is one of the largest vision groups in Europe, and is unique worldwide in terms of its scope.
Bristol Vision Institute functions as a virtual research institute and has been highly successful in stimulating research interactions and collaborations. The reach of BVI extends across the world, including collaborations Google YouTube, Netflix, BBC and Fraunhofer HHI Berlin.