View all news
Poetry and dance engage Bristol schools at Black History event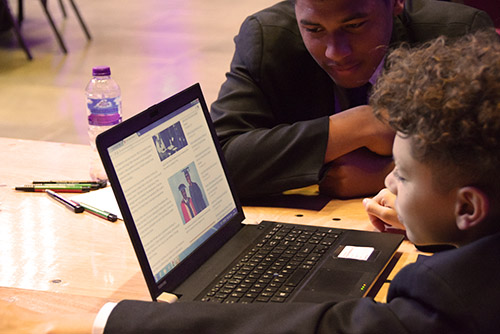 23 October 2017
Pupils from Bristol schools visited the University of Bristol for a series of themed activities marking Black History Month and celebrating diversity.
On 17 October, Year 10 students from across the city enjoyed an opportunity to engage with poetry and dance workshops while learning about the significant contributions to society made by African individuals and communities.
Pupils from Bristol Metropolitan Academy, Cotham School and City Academy took time out of their usual school day to get involved in the themed activities organised by the University's BAME Staff Advisory Group. The programme was led by University staff, students and influential local African arts leaders, including poet and historian Dr Edson Burton and professional dancer Cleo Lake, both members of the external BAME board.
Dr Burton commented:
"It was great to see the young people from across Bristol's schools willing to actively engage with these important Black History events. Our workshops are giving these youngsters the opportunity to see Black History as being more than just past history – it's relevant to them personally today."
Liana, a Year 10 student from City Academy said:
"I really liked working with other schools today and meeting new people. It was interesting to learn about the University's history and famous black people who have studied here. The view from the top of Wills Tower was also amazing, the bell was really loud!"
BAME Staff Advisory Group co-Chair Rebecca Scott led the day's proceedings.
"Our city and University have long-running ties with our black communities. Historically these were not always the most positive or mutually-beneficial relationships. We now have the opportunity to change how the University's relationships with our black communities are written in today's history. I look forward to seeing some of the participating students here in the future, either as students or as staff."