View all news
Students use world-class space facilities to design their own volcano monitoring satellite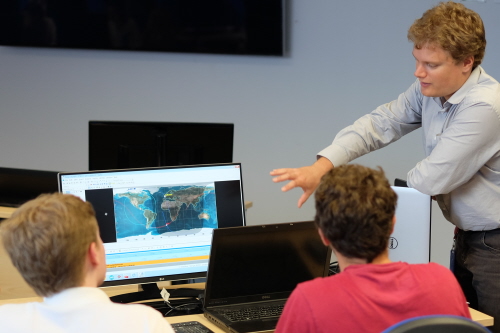 Press release issued: 21 June 2017
A team of students and staff from the University of Bristol are designing a volcano monitoring satellite as part of the University's satellite programme. The group of 17 students and academics have been given unique access to the Concurrent Design Facility at the Science and Technology Facilities Council's (STFC) RAL Space, to design the University's first CubeSat.
The project, initially funded by the UK Space Agency, will take several years to complete. Once designed and built, the new satellite will observe volcanoes from space and take 3D images of ash clouds.
The team will be working on the design of the satellite and will be mentored by RAL Space experts in a special Concurrent Design Facility. Concurrent engineering puts all design engineers and required tools together with the user in the same location at the same time. This allows for iterative design at a fast pace, with user and designers agreeing requirements and taking decisions in real time.
Dr Lucy Berthoud, Space Systems Lecturer in the Department of Aerospace Engineering, said: "This is the first time that RAL Space have allowed students to use their facility. We are really excited for our students to have the opportunity to work in this state-of-the-art facility and would like to thank RAL Space and the UK Space Agency for helping to make this happen."
Dr Matt Watson, Reader in Natural Hazards from the School of Earth Sciences, added: "It is really unusual for UK universities to build a satellite. Once the satellite has been launched, we hope to receive ground-breaking images of volcanic ash. It is great that space experts and students have come together to work on the project and we are delighted that we are encouraging the next generation of space scientists and engineers."
Jenny Jobling, a 4th year Aerospace engineering student said: "Working on a real-life mission is very motivating for us, it's a unique opportunity."
Dr Dan Peters, from RAL Space, concluded: "It's been fun working with students, we've tested our facility in new and different ways and it's been fascinating to watch the mission come into focus. It's great to be training the next generation of scientists and engineers to use concurrent design."
The project team includes aerospace engineers Dr Lucy Berthoud and Dr Mark Schenk who will work with Bristol's award-winning volcanology colleagues: Dr Matt Watson and Dr Helen Thomas.
Further information
During the volcanic eruption of Eyjafjallajokull in 2010, European airspace closure resulted in costs of £200 million a day for airlines.
About RAL Space
RAL Space, based at STFC's Rutherford Appleton Laboratory (RAL), carries out an exciting range of world-class space research and technology development. We have significant involvement in over 200 space missions and are at the forefront of UK Space Research.
Our 200 staff are dedicated to supporting the programmes of the STFC and the Natural Environment Research Council (NERC), as well as undertaking a large number of space projects for UK and overseas agencies, universities and industrial companies.
We work alongside the UK Space Agency who co-ordinate UK civil space activities.
We undertake world-leading space research and technology development, provide space test and ground-based facilities, design and build instruments, analyse and process data and operate S- and X-band ground-station facilities, as well as lead conceptual studies for future missions. We work with space and ground-based groups around the world.
About the UK Space Agency
The UK Space Agency is at the centre of space research in the UK. It was officially launched on the 23 March 2010, and on the 1 April 2011 became a full executive body of BIS (now Department for Business, Energy & Industrial Strategy (BEIS) ), responsible for all UK space activities.
This is a huge sector, with a turnover of £9.1 billion in 2010/11, and has helped to revolutionise a wide range of crucial areas including telecommunications services, security and TV broadcasting.