View all news
Bristol-led scientific paper wins RSPB award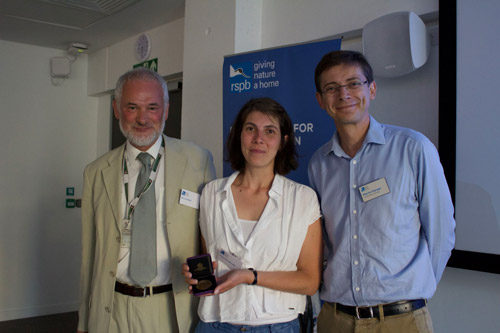 Press release issued: 21 June 2017
A scientific paper led by a team of biologists from the University of Bristol has won a major award from the RSPB.
'Historical nectar assessment reveals the fall and rise of floral resources in Britain' was published by the journal Nature in February 2016 and featured as the front page story for that week's edition of the magazine.
It was chosen by a team of 70 scientists who work on global conservation issues for the RSPB to receive the RSPB Centre for Conservation Science award for a scientific paper of high conservation importance.
The team, from the University's School of Biological Sciences, travelled to Cambridge last night to receive their prize at the RSPB's annual awards event.
The paper provided results from the first ever Britain-wide assessment of the value of wild flowers as food for pollinators and showed that decreasing resources mirror the decline of pollinating insects, providing new evidence to support the link between plant and pollinator decline.
The study, combined vegetation survey data recorded over the last 80 years with modern day measurements of nectar to provide the most comprehensive assessment ever published.
Professor Jane Memmott from the School of Biological Sciences, said: "It's brilliant for the whole research team to receive an award like this for our work and from one of the biggest environmental charities too.
"This project was run by a team of scientists and between us we measured the decline of nectar production from the 1950s to the current day and showed that there had been a 31 percent decrease in the nectar available to pollinators during this period."