View all news
Bristol's Dr Gorochowski awarded Royal Society University Research Fellowship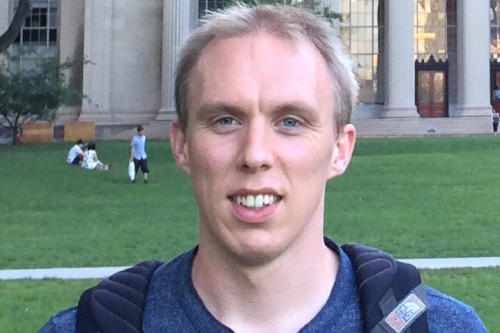 Press release issued: 28 June 2017
Dr Thomas Gorochowski, from the University of Bristol's Bristol BioDesign Institute, has been awarded a prestigious five-year University Research Fellowship by the Royal Society.
Dr Gorochowski joined the University of Bristol in 2016 as the first of two Fellows in Synthetic Biology to be appointed to BrisSynBio, a UK Synthetic Biology Research Centre that forms part of the Bristol BioDesign Insititute.
The Royal Society's University Research Fellowship scheme aims to provide outstanding early career scientists, who have potential to become leaders in their field, with the opportunity to build an independent research career.
Dr Gorochowski will use his Fellowship to establish his own independent research group at the University of Bristol that will focus on developing a greater understanding of synthetic genetic circuits.
Dr Gorochowski explains:
"Genetic circuits are encoded into the DNA of living cells and are key to regulating their behaviours.
"While the DNA encoding such circuits can now be easily synthesised, predicting how these circuits will function when placed in living cells is less straightforward. Currently it can take months, or even years, to construct a fully working system.
"With this Fellowship, I will lead a research team that aims to overcome these challenges and make major advances towards developing synthetic genetic circuits with functions we can easily control.
"To do so, we will develop novel sequencing technologies combined with mathematical models to provide the most detailed view of synthetic genetic circuits to date. This will form a valuable toolbox for bioengineers and enable the rapid design of genetic systems with our own desired behaviours.
"Ultimately this research will help unlock the significant potential of synthetic genetic circuits to harness the power of biology and could offer solutions to many pressing global issues, from the sustainable production of valuable chemicals and materials, to completely new forms of medicine."
Further information
About BrisSynBio and the Bristol BioDesign Institute: BrisSynBio is a multi-disciplinary research centre that focuses on the biomolecular design and engineering aspects of synthetic biology, and has been established as one of six Synthetic Biology Research Centres in the UK. BrisSynBio is funded predominantly by the Biotechnology and Biological Sciences Research Council (BBSRC) and the Engineering and Physical Sciences Research Council (EPSRC), and has a number of other academic, industrial and public-facing partners.
BrisSynBio is part of the Bristol BioDesign Institute, one of only seven Specialist Research Institutes at the University of Bristol. These are areas where the university aims to be world leading and will be the focus of future investment and strategic activities: