View all news
Bristol embraces nature with My Wild University meadow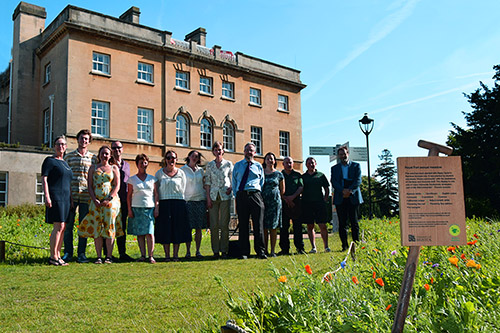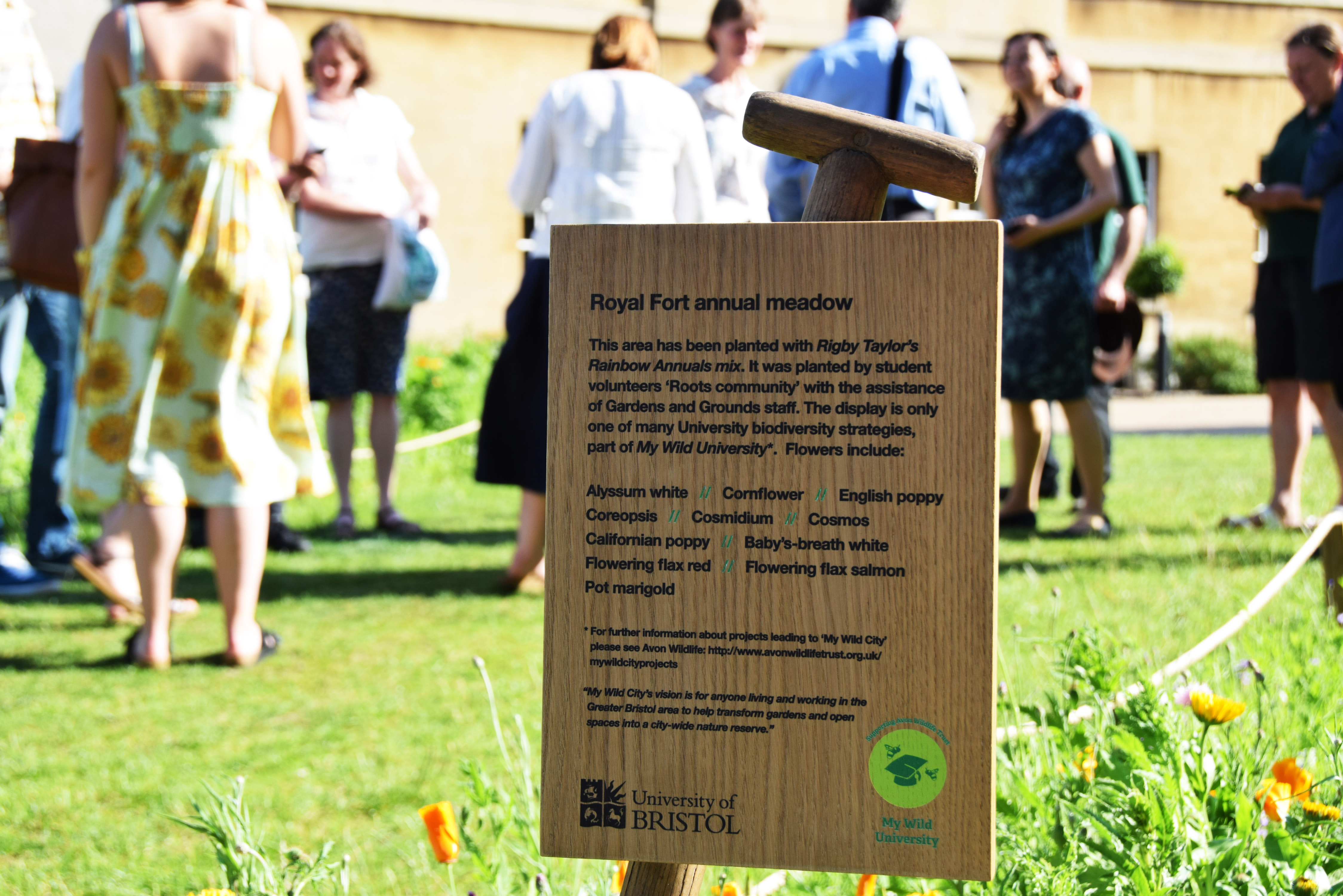 15 June 2017
'My Wild University' is a joint venture between the University of Bristol and Avon Wildlife Trust which aims to embrace nature across the city and get Bristol buzzing.
The University is promoting nature through a range of projects as part of My Wild City, across 200 acres of gardens and open spaces and 400 acres of farmland. These natural habitats range from extensive mixed woodland and calcareous grassland around halls of residence through to green roofs and living walls within the city environment.
2017 is Year of the Pollinator, and the wildflower meadow and new signage outside Royal Fort House commemorates the action we are taking to create a buzzing, bee-friendly environment. Further signs will be placed in meadows outside Oldbury House, on St Michael's Hill and at Clifton Hill House.
'My Wild University' also includes projects undertaken by the Roots Community Garden student-led volunteering group, who promote positive mental health and wellbeing by encouraging more students to connect with nature and their local community.
Research by Professor Jane Memmott and Dr Katherine Baldock suggests that bees and other pollinating bugs actually thrive as well in towns and cities as they do in farms and nature reserves. In fact, there are more bee species in urban areas than in the surrounding farmland and the Bristol team found a number of rare pollinators living in towns and cities. Their findings have important implications for pollinator conservation as urban areas in the UK continue to increase in size. The study concluded that improving the value of urban areas for pollinators should be part of any national strategy to conserve and restore pollinators; new habitats such as a flower meadow can play an important role in this work.
Dr Katherine Baldock, NERC Knowledge Exchange Fellow, said: "The Estates team already has some great initiatives in place to help pollinators on campus and these two new meadows are a fantastic addition that provide food for pollinators and improve the surroundings in locations that can be enjoyed by staff, students and visitors.
"The University led the creation of the Greater Bristol Pollinator Strategy, in partnership with local councils and NGOs, which aims to improve the Greater Bristol urban area for pollinators. The development of 'My Wild University' will help to achieve the aims and actions of the Strategy and at the same time create wild flower havens for pollinators and people across campus."
Matt Collis, from Avon Wildlife Trust, added: "My Wild City offers a vision to create a nature-rich city that enables wildlife to be part of our everyday lives. The University of Bristol aims to show how high-level educational institutions can be part of that vision for the benefit of its students, staff and our cities wildlife."
Further information
My Wild City is a project led by Avon Wildlife Trust with partners Bristol City Council and University of Bristol. The project started in 2015 during Bristol's Green Capital year.
The University Botanic Garden is running a series of events, workshops and nature trails on the theme of pollination this year.
Read more about the other pollinator-friendly actions being taken across the city to Get Bristol Buzzing.