View all news
Human Geography Master's celebrates 25 years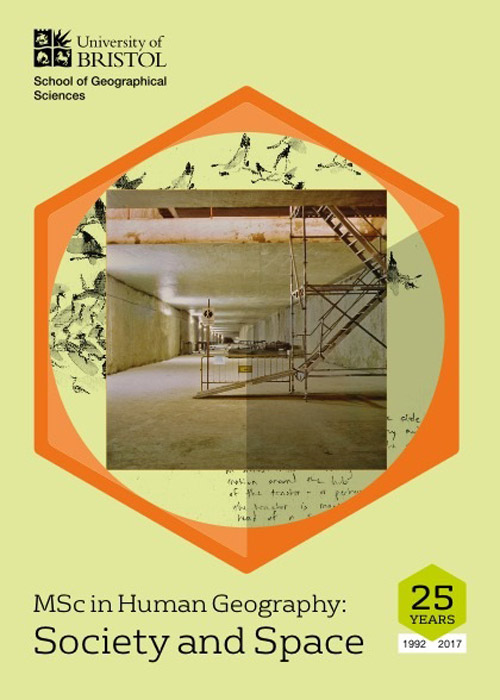 Press release issued: 21 June 2017
2017 marks a quarter century for one of the UK's leading Master's programs in Human Geography at the University of Bristol.
To celebrate, the School is launching a newly designed information booklet that features the art and images from past and present staff and postgraduate students.
Well known and respected within the field, the Masters in Human Geography: Society and Space programme in the School of Geographical Sciences has been at the forefront of contemporary human geographical postgraduate research and education since its inception in 1992.
The programme began as a collaboration between the Department of Geography (as it was called then) and the then School of Advanced Urban Studies (now part of the School of Policy Studies). It was started under the leadership of Professor Sir Nigel Thrift, then a professor of Human Geography at Bristol, and today an Honorary Doctorate and Emeritus Professor with the School of Geographical Studies.
Under Sir Nigel, the 'Society and Space' program rapidly became a world leader in delivering innovative and cutting edge theoretical and critical research in contemporary human geography. The programme aimed to provide then, and continues to do so today, a thorough understanding of the theoretical debates around issues of society and space, and how these translate into practical research agendas and the formation of critical politics and policy. Teaching continues to be based around topic specific modules, seminars, and research dissertations, some of which, every year, go on to be published in leading academic journals.
Famously, the 'Society and Space' programme, as it is known throughout the discipline of human geography, became associated with the development of 'non-representational theory'. Non-representational theory (NRT) has transformed, sometimes controversially, many conceptual and empirical landscapes within cultural and political human geography, and is now almost indelibly associated with human geography research at Bristol. So strong has been the legacy of the course with NRT that the programme will also be the subject of analysis in a forthcoming book on non-representational theory (with Routledge's Key Ideas in Geography series) by 2006 graduate of the program, Paul Simpson.
Given its history, the MSc programme is known for training a very high number of students who go on to study PhDs at Bristol and elsewhere. Early graduates of the course, and critical exponents of NRT, have made their names and careers from research inaugurated on the program. Leaders in the field of Human Geography like John Wylie, Beth Greenough, Emma Roe, James Ash, and Nick Gill are all alumni of the MSc.
Owain Jones, an early graduate, and now Professor of Environmental Humanities at Bath Spa, commented on his experience with 'Society and Space': "I can say without any exaggeration that doing the course was a life transforming and enhancing experience (as university postgraduate education should be). I did not do an academic degree [prior to Society and Space] but an arts practice based degree, so the MSc really marked my conversion to academia and to geography."
Today, the focus on non-representational theory has morphed and matured into a demanding, deep curriculum that encompasses topics ranging from affect, technology, and biopolitics, to posthumanism and experimental methodologies, to decolonial and postcolonial geographies, to post-development, political ecology, and hermeneutics. ESRC accredited, the course offers qualitative and quantitative training, and is also a regular contributor to the SWDTP and the University of Bristol's Doctoral College. Every year we are pleased to welcome ESRC funded 1+3 students keen to study contemporary issues of society and space as they translate into practical research agendas and critical, innovative analyses of the present.
2016 saw the launch of a course blog which features articles written by current students and staff. As part of their course, all students contribute accessible synopses of their research dissertation ideas to the blog.
If you would like to learn more about 'Society and Space', please do visit our blog, download the web ready booklet, send enquiries to geog-pgadmis@bristol.ac.uk or feel free to contact the course director, Naomi Millner, herself a graduate of the program.