View all news
Bristol welcomes the Year of the Rooster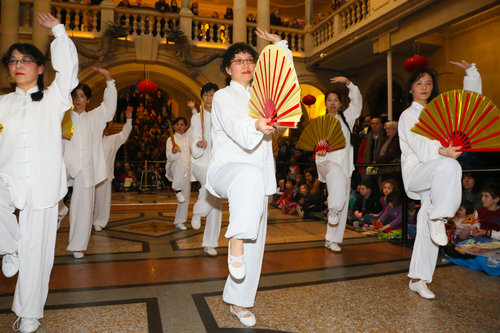 27 January 2017
Students and staff from the University will help visitors at Bristol Museum & Art Gallery celebrate Chinese New Year in traditional style, with lion dance performances, martial arts, storytelling, family trails, arts and craft activities, live music and much more on Saturday and Sunday 4 and 5 February].
The whole family can enjoy activities ranging from mask-making, paper folding and tea-tasting, to calligraphy, Chinese chess and massage. A trail will provide clues to finding the hidden roosters in the museum.
Elements of Chinese culture will be displayed with stalls dedicated to Chinese medicinal plants, acupuncture and the Chinese zodiac. A delicious Chinese-inspired menu will be available in the café and beautiful Chinese goods will be on sale in the shop.
The University of Bristol is sponsoring this year's event, alongside architects Austin-Smith:Lord. The weekend will be opened by Lord Mayor of Bristol, Cllr Jeff Lovell.
Dr Erik Lithander, Pro Vice-Chancellor (International) at the University of Bristol, said: 'The Chinese New Year celebrations at Bristol Museum & Art Gallery are always a fun and enjoyable cultural experience for all the city to enjoy. Seeing the Lion Dance Troupe in action will be a definite highlight. Dozens of our students and staff are once again volunteering and our Chinese students in particular are really keen to share their customs and culture with visitors throughout the weekend.'
Laura Pye, Head of Culture at Bristol City Council said: 'Our Chinese New Year celebrations are only possible thanks to the hugely talented organisations and individuals who help us showcase Chinese culture for one fantastic weekend. Seeing so many magnificent performances in such a beautiful venue is one of my highlights of the year. I would like to thank our event sponsors, Austin-Smith:Lord and the University of Bristol, for their generous support.'
The Year of the Rooster starts on 28 January 2017 and continues until 16 February 2018. According to the Chinese Zodiac, people born in a year of the Rooster are observant, hardworking, resourceful, courageous and talented.